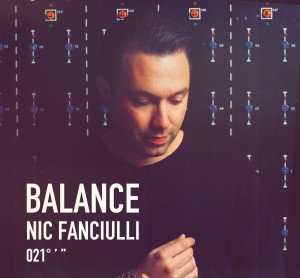 Following on from Deetron's brilliantly executed Balance 020 project, Balance Music presents Balance 021 mixed by Nic Fanciulli. The Saved Records boss delivers a stunningly intricate mix that Highlights his ethos as DJ and label owner.
CD1, entitled simply 'Balance' is a subtle and expertly crafted mix that balances a plethora of diverse tracks, often three at a time, to create an expansive but well focused journey.
Infused with a true timeless quality, the mix was approached in a way that will enable it to sound as good in ten years time as it does today.
Individual records were meticulously edited one by one to provide the album with a fluid and natural flow, displaying a more heightened sense of musicality than we are often used to in dance music.
It's intelligent arrangement really paves the way for an overriding sense of permanence that is so often missing in many of today's compilations.
On CD2, Nic showcases the sound and ethos of his own Saved Records with a collection of records exclusive to the imprint.
Whilst keeping the focus on quality house music, the mix highlights the diversity within the label with a discernable collection of tracks that straddle various styles, atmospheres and tempos, many of which will be
available exclusively through Balance 021.
From deep and melodic grooves to stripped back bounce, rolling basslines, jacking beats and everything in between, the second disc truly emphasises the dedication to quality that has made Saved one of the most respected Labels in the UK and around the globe.
CD 1: Balance
1. Luca & Bruno – Raindrops Intro
2. Maya Jane Coles – Something In The Air [Hypercolour] 3. SIS – Break Down [Cocoon Recordings] 4. DifferentME – Back To Tomorrow [Deleted] 5. Iron Curtis – Goma [Kolour Recordings Digital] 6. Eastmen – U Dig (Cassy & Chris Carrier Remix) [Soma Records] 7. Jae B – Vibe [petFood] 8. NTFO, Rhadow – Roots [Sinetope Digital] 9. Franck Roger, Mendel Turner – After All [Real Tone Records] 10. Oscar Offerman – Only My Shorts [WHITE MUSIC] 11. &ME – Purple Rain [Keinemusik] 12. Ray Okpara (Feat. Obi Jazz) – Bounce To This [Mobilee Records] 13. And.Id – Need For Chicago [2020Vision] 14. SLG – I Love You But I've Chosen Disco (Feat. Smolny) [Pets Recordings] 15. Joris Voorn – Spank The Maid [Rejected] 16. Nic Fanciulli – Movin' On [Rejected] 17. Pol_On – Heavy Rain [Systematic Recordings] 18. Lovebirds – The Beast [Liebe Detail] 19. Quell – Joy [These Days] 20. Ricardo Villalobos, Jay Haze – Fenlow (Haze's 2011 Re-Rub) [Contexterrior] 21. Efron, Piek  – Vous Etes Fou [Inmotion Music] 22. Anonym – If Every Day Was A Sunny Day [Bass Culture Records] 23. Humano – Life [Music Man Records] 24. Vernon Bara, Igor Vincente – Don't Feel No Way [Visionquest] 25. Martin Eyerer, Glimpse – Southern Soul (Jay Shepheard Remix) [Buzzin' Fly Records] 26. Mario Basanov – Up [Needwant] 27. Omar S – Here's Your Trance Now Dance [FXHE Records]
CD 2: Saved
1. Gianni Callipari – Whybee
2. Simon Baker & Robert James – All Of A Sudden
3. Guti, Livio & Roby – We Are
4. Samu.l – Forgiven
5. Mark Broom – Jackpot (Robert James Remix)
6. Subb-an – This Place
7. Philip Bader, Andrea Oliva – Girls
8. Emerson Todd – Haere Mai
9. &ME – Matters
10. Robert Dietz – Bingo Wings
11. Nic Fanciulli, Stacey Pullen – Limmo (Robert Dietz Remix)
12. Philip Bader – Amir Loves You (Nic Fanciulli & Davide Squillace Remix)
13. Clio – Bad Boy
14. Harvey McKay – Showface (Acapella)
15. Alex Tepper – Feng Shoe
16. Boris Ross & Jeff Moore – Golden Dreams
17. Nic Fanciulli – Wild
18. Loco Dice – Definition (Nic Fanciulli Remix)
19. Winx vs. Nic Fanciulli – Don't Laugh (2012 Remix)
20. Clio – Mister Nice
21. Nic Fanciulli, Rolando – The Test (Paul Ritch Funky Mix)
22. Radio Slave – Grindhouse (Nic Fanciulli Remix)
23. Hollen, Pirupa – Black Fusion
24. Nic Fanciulli, Gary Beck – Hear Me Out (Nikola Gala Remix)
25. Chiapet – Westworld (Skylark Remix)
26. Mark Fanciulli – Sacrifice