Since leaving Richie Hawtin's M_nus family, Magda has set about forging her own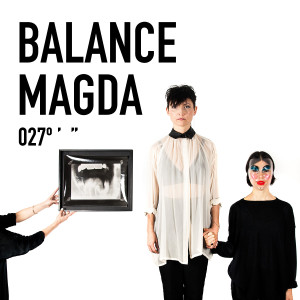 distinctive path in electronic music. Unshackled from minimal techno expectations (not that she could ever be defined so narrowly), she has found freedom in this new chapter of her career. Whether its curating myriad unusual sounds on her Items & Things label alongside Marc Houle and Troy Pierce, developing her own premium tequila brand or designing a custom DJ controller, all of her output is imbued with a sense of adventure and exploration.
Her effort for Balance indulges both the cerebral, boundary-pushing side of her musical make-up, and the more dancefloor focused one – which is, of course, not without its kooks, quirks and moments of oddity.
"The most important thing is the narrative – what you're trying to say and how" she says of the process of putting her selections together. "That's why I love the idea of a two mix compilation; because it allows for lots of experimentation and space. The challenge is piecing together tracks that may be opposites into something that makes sense. That's the most fun."
CD1 pitches electronic composition as conceptual art. It's a journey through the outer reaches of electronica: experimental soundscapes like Dinos Chapman's 'Alltid' side-by-side with more 'conventional' slivers of tripped-out melody like NYMA & Carreno Is LB's stuttering 'Solaria'. We're led from these more abstract pieces through the electro jazz of Gregory Fleckner Quintet into wigged-out 4/4 selections midway through the disc, ushering us towards a warped dancefloor where percolating concoctions like Hauntologists' 'Shakes' are considered the norm.
Magda keeps us guessing throughout, moving through Matthew Herbert's found sound ode 'Crisps' (as Wishmountain), the wistful melodies of CV30X and into twanging techno. The dubbed out spookiness of Shackleton's 'Cast The Die' and the shimmering guitar snippets of Andrew Pelker's 'Pitch Class Spy Glass' bring this beguiling mix brimming with non-genres to an eerie close.
"I definitely don't expect everyone to like it and I'm fine with that" she says of her explorations in the more leftfield spheres. "I just want to open my eyes wider and keep searching for more."
The weird factor spills over into the second, more dancefloor-focused mix: the bruising textures of Minor Science's 'The Beckoner' and squealing analogue freakiness from The Mole & Hreno bringing the intensity from the off. From hereon it's far from a linear journey; with a wide range of styles showcased and twists and turns aplenty. But if there's a recurring theme across the second disc, it's the enduring sound of acid. Murat Tepeli's 'P.S.A. (Play Stop Acid)' sets the ball rolling, Rework's rampant 'In A Dance' and XDB's 'Inywa' both taking the baton and passing it onwards to allow those 303 lines to rear their head on multiple occasions.
A smattering of exclusives includes Mathew Jonson & Jesse 'Heartthrob' Siminski's jacking rework of Seth Troxler's 'Evangelon' and the severely wonky undulations of Magda's own 'Trailerfork' thereafter. Etcher's 'They Are Us' channels acid trax simplicity, before techno luminaries Planetary Assault Systems and DVS1 lead us through paranoid and gently euphoric terrains by turns. Magda tests out new wiggling cut 'Scrumps' before heading towards the home stretch with some electro-infused gear courtesy of Tom Trago, Transllusion and Obergman.
"When I recall my favourite parties of 2014 I picture intimate venues with super tight sound and a good vibe" she says of the inspiration for this mix. "For me when you get into a huge warehouse situation with sound bouncing off the walls and a sea of cameras in my face, it's just not the same and never will be."
This compilation displays the sound of a true cratedigger; a dedicated DJ who searches far and wide for inspiration and fascination. It truly embodies every element of her eclectic sound, and is sure to unearth many an unknown gem for even the most avid of electronic aficionados. And it's that journey of discovery, which is ultimately what every good selector should take their listener on.
How does Magda recommend this mix should be accompanied?
Disc One: "With a pillow, cozy surroundings and a space cake?"
Disc Two: "With your eyes closed, a fat sound system, and a wooden floor"
Words by Ben Gomori
Tracklisting
CD1
1. Tomas More – Gold, Grey & Dun***
2. Dinos Chapman – Alltid
3. Jahiliyya Fields – Turned on Type
4. Tase – Comeback
5. NYMA & Carreno is LB – Solaria***
6. Gregory Fleckner Quintet – How Much Would Conkers Cost?
7. Farben: presents James Din A4 – Please Excuse my Face
8. Rework – Traubenzucker***
9. Odd Soul – Capitoul
10. Hauntologists – Shakes
11. Luc Ringeisen – Beat Design
12. Wishmountain – Crisps
13. Cornerbred – Riding High***
14. Odei – Radius Head
15. #.19.21.3.11.21.20 – B1
16. Brett Johnson – Big Drunk Caterpillar
17. CV30X – 2×4
18. Nicholas Desamory feat. Lucile Desamory – The Truth
19. Kaitaro – Magic Channel
20. Rotorik – Verschollen In Der Unendlichkeit
21. Errorsmith – Make or Break
22. Shackleton – Cast the Die
23. Andrew Pekler – Pitch Class Spy Glass
CD2
1. Andrew Pekler – Dizzy Spells of Summer
2. Minor Science – The Beckoner
3. The Mole & Hreno – Things are Heating Up in the Grizzly Maze
4. Murat Tepeli – P.S.A. (Play Stop Acid)
5. Marc Houle – Techletoes***
6. Alliv Sobol – Toz 11
7. Tomas More – Who's in Charge (Melodic Version)
8. Rework – In a Dance***
9. Stefny Winter – I Needed That
10. XDB – Indywa
11. Seth Troxler – Evangelion (Jonson & Siminski remix)
12. Magda – Trailerfork***
13. Trus'me – It's Slow (Truncate Raw Mix Part 1)
14. Samuli Kemppi – Wrong Turn
15. Etcher – They Are Us
16. T.B. Arthur – 1 (B1)
17. Marcel Dettmann – Apron (PAS Tubed mix 2)
18. DVS1 – Black Russian
19. Lester Fitzpatrick – Tone Control
20. Magda – Scrumps***
21. Birdsmakingmachine – Icaros
22. Sandman – Machines Like This
23. Gabriel Ferreira – Fold***
24. Tom Trago – Fall Down on Me
25. Transllusion – Walking With Clouds
26. Obergman – Holometer
***DENOTES EXCLUSIVE TO COMPILATION
Release Dates:
AUSTRALIA/NZ: FEBRUARY 27TH, 2015
UK/EUROPE/ASIA: MARCH 9TH, 2015
NORTH AMERICA: MARCH 17TH, 2015