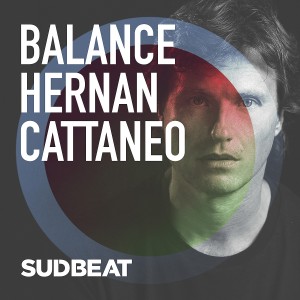 "Global in ethos; South American in spirit." That's how Hernan Cattaneo describes his acclaimed Sudbeat label, which was founded in 2009, and, to this day, he works alongside with his friend Graziano Raffa to manage the label. Across a century of releases they have brought the world mesmerising electronic music from some of the worlds biggest producers, as well as fostering countless new talents. "We both think that musical identity is crucial" explains Cattaneo, and it's something that's stamped all over this sublime new double disc compilation comprising entirely of unreleased, exclusive material from the label's roster in collaboration with Balance Music.
Always highly focused with his approach to compilations, Cattaneo focuses on the sound of now rather than muddying things with anything more conceptual. "Like every other album I did, I always want to showcase my sound at a certain moment in time." As such, each effort provides a snapshot in his ever-evolving oeuvre, and a succinct souvenir of that particular era. Line them up together and what's consistent is his love of melody, atmosphere and texture. Dance music with a capital 'm', if you'll forgive the hackneyed phrase.
This compilation digs deep into the Sudbeat network of rising talents from across the globe, unearthing many a lesser-known and promising names in the process. "Working as a DJ, I get hundreds of links with new music every week" says Hernan. "That is a great opportunity to discover really interesting stuff to put on the label." With Sudbeat having such a clear identity, putting this compilation together was an organic process for him, with pairings and sequencings almost picking themselves. "When you have a clear music identity and so many great artists on the label, it's really enjoyable to put together an album like this."
Disc 1 is a slow-burning, downtempo affair that rounds-up Sudbeat's less dancefloor-focused output. Peak time material it may not be, but is still exudes all the hallmarks of their livelier material, and works just as well on early hours dancefloors, as it does on the beaches, or in a home setting. At times the slower tempo even gives the captivating melodies and atmospheres more room to breathe and sink in, the chugging beat anchoring a hypnotic lynchpin beneath. Therein the mood ranges from Toki Fuko's meditative An Odor to the hazy synths of Ian Dillon's Embers and through to the sumptuous vocal delights of Oriana Favaro Cattaneo & Soundexile's Closer and the melancholy of another of their gorgeous collaborations, Perpetual (Day Mix). Big guns like Nick Warren and Henry Saiz provide deep cuts, interspersing the impressive bevy of newer names.
Disc 2 begins in mystical fashion, with the Arabic melodies of Simon Vuarambon & Sidartha Siliceo's Liberation segueing into the haunting, glassy synths of Tara Brooks' Yugen. Snatches of distant, solemn pianos abound on Dance Spirit's Kaleidoscope; heady arpeggios reign supreme on Lonya & Audio Junkies' Ima and Hernan & Soundexile's lush Deneb; chunky groove powers the mix on forwards in Guy Mantzur's Requiem For Us; and rousing epics like Cattaneo & Soundexile's Pressure Drop and Guy J's Brothers Vibe, which propel us into higher territories. It's a supremely classy collection of tracks that effortlessly blend and blur into one another.
"All music on the compilation is exclusive and unheard before, so I'm sure all our followers will be very pleased to find so many fresh tracks to discover. Both mixes are the perfect example of Sudbeat's identity that of course is also mine as a DJ."
Tracklist:
CD1
1. Toki Fuko – An Odor (Balance Version)
2. Sahar Z & Navar – The Dogma Code
3. Anton Tumas & Eugene Toale – Endless story
4. Ben Shaw – Above The Clouds (Dream Version)
5. Conures – Elegy
6. Kevin Di Serna & Ditian – Everest
7. Ian Dillon – Embers (Slow Version)
8. Hernan Cattaneo & Soundexile – Fantasy
9. Khen – Never Lose Your Innocence (Downtempo mix)
10. Hernan Cattaneo & Soundexile feat. Oriana Favaro – Closer
11. Nick Warren & Tripswitch – Savannah
12. Hernan Cattaneo & Soundexile – Perpetual (Day mix)
13. Konvex & The Shadow – Rubalove
14. Giddyhead – Smile Riven
15. Henry Saiz – Life is…
CD2
1. Simon Vuarambon & Sidartha Siliceo – Liberation
2. Tara Brooks – Yugen
3. VERLK – Lakebed
4. Dance Spirit – Kaleidoscope
5. Audio Junkies, Lonya – Imma
6. Navid Mehr – Random Act of Kindness
7. Hernan Cattaneo & Soundexile – Deneb
8. Juan Deminicis – Suburbean
9. Facundo Mohrr, Valdovinos – Random Walks
10. Guy Mantzur – Requiem for Us
11. Chicola – Clockers (Balanced mix)
12. Nick Varon – Sivota
13. Hernan Cattaneo & Soundexile – Pressure Drop
14. Guy J – Brothers Vibe
15. Crudito Sava – Todo y Nada
Australia release date: February 17th, 2017
UK/Europe/Asia release date: February 24th 2017
USA release date: 3rd March 2017