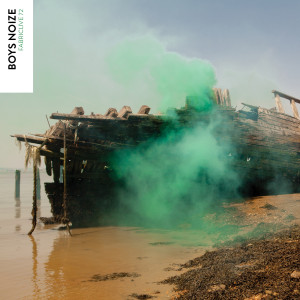 German producer Boys Noize will mix Fabriclive 72.
Regardless of where you stand on the Boys Noize sound, his impact on the scene since he came to prominence is undeniable. His remix skills has been in high demand and he has reworked tracks by high profile acts like Depeche Mode and Daft Punk, and he has collaborated with a diverse range of artists that includes Snoop Dogg and Chilly Gonzales. Fabriclive 72 promises 'an education in crazy techno, turbocharged electro and hi-energy jackin' house' that is 'a frenetic, fast-paced representation of a typical Boys Noize set, condensed into 70 pulsating, sweaty minutes'.
The tracklisting looks very interesting indeed with a selection of classic techno, current electro and a splattering of wonky tech-house.
Tracklisting
01 Mr Oizo feat. Marilyn Manson – Solid [Ed Banger] 02 Boys Noize – Starwin [Boysnoize] 03 Costello – Pegasus [BNR Trax] 04 Jimmy Edgar – Shout [Ultramajic] 05 Surkin – Warehouse [Marble] 06 Feadz – Go On Girl [Boysnoize] 07 Pilo – Ghettocoder [Boysnoize] 08 Kingdom – Femme Litre [Fade to Mind] 09 Gingy & Bordello – All Day (Robert Hood Remix) [Turbo] 10 Four Tet – For These Times [Nonplus] 11 Randomer – Meat & Dancing [white] 12 Kowton – TFB [All Caps] 13 Boys Noize – Anoid (Demo Version) [Boysnoize] 14 Craze – Selekta (Valentino Khan Remix) [Slow Roast] 15 Dog Blood – Chella Ride [Boysnoize / OWSLA] 16 Worthy & Eats Everything – Tric Trac [dirtybird] 17 Djedjotronic – Kaikō [Boysnoize] 18 Gesaffelstein – Aufstand [Turbo] 19 Aden – Luft [Ultramajic] 20 Special Request – Wall To Wall [Houndstooth] 21 Anthony Naples – P O T [Proibito] 22 DJ Deeon – Work This MF [Dance Mania] 23 Tracques – Motor [Boysnoize] 24 Dave Clarke – The Compass [Skint] 25 Tom Rowlands – Nothing But Pleasure (Boys Noize Pressure Fix) [Phantasy] 26 Alesia – Andrea [OWSLA] 27 The Chain – Maje [R&S] 28 Boys Noize – XTC (The Chemical Brothers Remix) [Boysnoize] + Spank Rock – DTF DADT (Acapella) [Boysnoize] 29 I-F – Space Invaders Are Smoking Grass [Disko B] 30 Kölsch – Goldfisch [Kompakt] + Boys Noize – XTC (Acapella) [Boysnoize] 31 Apparat – Arcadia (Boys Noize Reprise) [Shitkatapult]