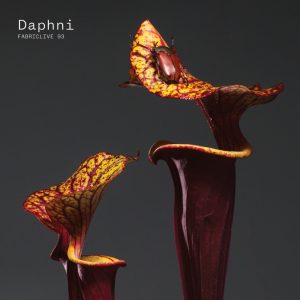 Daphni (aka Caribou, aka Dan Snaith) has announced his first full body of work under the moniker since 2012's critically acclaimed JIAOLONG album and most recently Caribou's seminal standout 2014 album Our Love. It comes in the form of a very special FABRICLIVE mix composed of 23 original, unreleased Daphni tracks and four new Daphni edits.
Daphni was originally born out of a desire to make more immediate music, working fast and capturing the energy of those moments in smaller club spaces Dan found when touring and DJing with Caribou early on. Growing into bigger rooms and impressive line ups such as his recent night at London's Printworks with Floating Points, Joy Orbison, Gold Panda and more; wherever he may now play, the ethos remains the same. As a result the second full body of Daphni work (containing more original material than has been released to date in total) finding it's home inside of this mix makes perfect sense.
"What started as a mix featuring bits of new music gradually evolved until it reached a place where it was essentially a studio recording and barely a DJ mix at all, yet the structure remained. A lot of these tracks were recorded in situ in the mix itself – I'd put one track in place and instead of searching through existing music to find the track to follow it I'd just make an entirely new one." Daphni
When it comes to his personal relationship with fabric, Dan talks of his time DJing alongside Kieran Hebden, aka Four Tet ("hopefully we left our own oddball imprint on the miasma of musical memories that hang in the air in that room") as well as the fact that when making Our Love he was allowed into the club during the day to listen to demos on the fabric sound system. "There have been so many (excellent) FABRICLIVE and fabric mixes at this point that I knew I should only do one if I could think of a way of doing my own take on it. As mentioned above, Villalobos is the primary artist I associate with fabric and so I immediately thought about making a mix of my own unreleased music – following on in the tradition of his, Omar-S and Shackleton's fabric mixes".
"I've been to fabric maybe ten or fifteen times over the years and the majority of those have been to see Ricardo Villalobos play." Daphni continues, "I'm always drawn to the eccentrics in each field of music and I love that a club like fabric, that is such a mainstay of London's clubbing landscape, is also the de facto London home of dance music's foremost eccentric."
Tracklist
01. Daphni – Face to Face [Jiaolong] 02. Daphni – Xing Tian [Jiaolong] 03. Daphni – Carry On [Jiaolong] 04. Jamire Williams – Futurism (Daphni Edit) [Leaving Records] 05. Daphni – Poly [Jiaolong] 06. Daphni – Ten Thousand [Jiaolong] 07. Daphni – Medellin [Jiaolong] 08. Daphni – Hey Drum [Jiaolong] 09. Luther Davis Group – You Can Be A Star (Daphni Edit) [Now Again Records] 10. Daphni – Try [Jiaolong] 11. Daphni – Vikram [Jiaolong] 12. Pheeroan Ak Laff – 3 In 1 (Daphni Edit) [Passin Thru Records] 13. Daphni – Listen Up [Jiaolong] 14. Daphni – Tin [Jiaolong] 15. Daphni – Moshi [Jiaolong] 16. Daphni – Strange Bird [Jiaolong] 17. Container – Dissolve (Daphni Edit) [Spectrum Spools] 18. Daphni – Joli Mai [Jiaolong] 19. Daphni – Nocturne [Jiaolong] 20. Daphni – So It Seems [Jiaolong] 21. Daphni – Screaming Man Baby [Jiaolong] 22. Daphni – vs [Jiaolong] 23. Daphni – The Truth [Jiaolong] 24. Daphni – 406.42 ppm [Jiaolong] 25. Daphni – Always There [Jiaolong] 26. Daphni – Fly Away [Jiaolong] 27. Daphni – Life's What You Make It [Jiaolong]