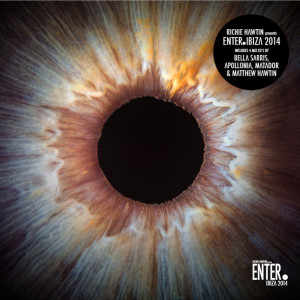 Richie Hawtin releases ENTER.Ibiza 2014, a 4 disc mixed showcase of his famed club night, ENTER. in Ibiza.
Its been another busy year for Richie Hawtin, having released an album of original work under his main production guise Plastikman (the first since 2003 ), as well as world tours and of course most recently bringing in another season of ENTER., his conceptual weekly techno take over of the Ibiza club, Space.
And with a fresh season of the award winning event comes this perfectly timed release on Hawtin's own Minus label that showcases the nights musical stylings. The famed 4 room event, now in its third year on the white Isle, translates easily into the 4 mixed CDs with each disc representing and showcasing the sound of  ENTER.'s 4 spaces, ENTER.Sake, ENTER.Terrace, ENTER.Main and ENTER Mind. as you would experience it.
And who better to mix the CD's then the ENTER. residents themselves with Bella Sarris taking care of Sake while Matador takes control of Main, Apollonia mixes Terrace and Matthew Hawtin curates the downtempo experimental side for Mind. As Hawtin himself says, ENTER.Ibiza 2014 will "take listeners on a journey through all the different sounds and moods encountered in each room."
ENTER.Ibiza 2014 is out on July 27th, 2014 through Minus.
Tracklist:
ENTER.Sake mixed by Bella Sarris
01. Francis Harris – Lean Back
02. Alexkid – Belly Jean
03. MP – Soup Of Souls
04. Malin Genie – Ked Blokken
05. Maksy – Ode To M
06. Vid Vai – The Daytripper
07. Birdsmakingmachine – Antonio's Swing
08. Jack Wickham – Jury Dub
09. Vid Vai – Lapsed
10. Fernando Costantini – TroubleR
11. Msdeep – Rhadzikar
12. Sons Of Tiki – Deep Down The Motion Room
13. Alci – Lessthan
14. Livio & Roby – Invers De Palma
15. Francis Harris – What She Had
ENTER.Terrace mixed by Apollonia
01. David K – Middle Age's Romance
02. Hanfry Martinez – Hasta Luego Primo (Dan Ghenacia Remix)
03. Pablo Marco – Amibola
04. Tuccillo – Just Gotta Believe feat. Howard
05. Boris Horel – Rhythm Tramp (Shonky Edit)
06. Ossa Jams – A1
07. Alci – Rump Shaker
08. Bodin & Jacob – Action
09. Paul Du Lac – Backstreet Boy
10. It's Not Over We Hustle Harder – Brotherhood
11. Rogerio Martins – Gonna Be Mine
12. Hanfry Martinez & Carlos Sanchez – Acid Aftermath
13. Doublet – Synthonic
14. Jovonn – The March
15. So Inagawa – Logo Queen
16. Apollonia – The Benchee-Apollonia
17. Funk E – Louis De Fumes
ENTER.Main mixed by Matador
01. Dan Robbins – Chanting In The Dark (Matador Remix)
02. Maceo Plex – ENTER.Space
03. Whyt Noyz – Grandular
04. Hobo – Public Lies
05. Phil Kieran – Rukus Juice (Matador Remix)
06. Bryan Zentz – Dialers
07. Whyt Noyz – Night Night
08. Matador – Divas
09. Julian Jeweil – Don't Think
10. Koeing Cylinders – 99.9 (Matador Remix)
11. Florian Frings – Escape
12. Barem – Circles
13. Phil Kieran – Computer Games
ENTER.Mind mixed by Matthew Hawtin
01. Mike Parker – Forward The 5am Mix
02. Jonni Darkko – Endless Void
03. Alixander III – H.303
04. Xhin – Arrival
05. Octave – Mod-1
06. Pfirter – Multiverse
07. Walter Ercolino & Lucy – Gmork (Dadub Tool)
08. Kangding Ray – Cercle
09. RNTS – Blood Noir (Devennue Remix)
10. STL – Checkmate
11. Luke Hess – Meaning Matters
12. Van Bonn – Schwerpunkt
13. Intrusion – A Night To Remember
14. Darko Esser – Slightly Disturbed (Sandwell District Remix)
15. Deepbass – Process
16. Maksim Dark, Diana Milles – Lullaby (Toollbox Remix)
17. Du Sant – 48 Hours Esqueletor (Toollbox Remix)
18. Markus Guentner – Atropos