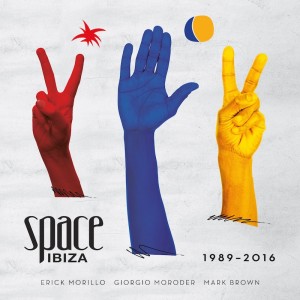 To mark the final year of Space Ibiza and Cr2 Records are proud to release a very special, one-off retrospective celebrating 27 years of the club.
Mixed by Erick Morillo, Giorgio Moroder and Mark Brown, the album features contemporary club tracks, underground house, tech house and techno and features an array of classic dance anthems synonymous with the world's most important club throughout it's rich 27 year history.
Included in the CD booklet are exclusive artist personal testimonials on the club and what it's 27 year history has meant to them, from artists such as Loco Dice, James Zabiela, Nina Kraviz, Anja Schneider, Carl Cox, Dubfire, DJ Sneak, Erick Morillo and more.
Tracklisting

Disc 1 – Mixed & Compiled by Erik Morillo
1. Erick Morillo – Thunder & Lightning (feat. Eli & Fur)
2. Claude VonStroke – Barrump
3. Harry Romero – RUDE (feat. Jessica Eve & RT)
4. Audion – Mouth To Mouth (Riva Starr Remix)
5. Ministers-De-La-Funk – Believe (Vocal Mix)
6. SanXero – Rescue Me (Harry Romero Remix)
7. Outwork – Elektro (feat. Mr Gee) (Original Mix)
8. Afro Medusa – Pasilda (Erick Morillo Remix)
9. Butch – Disco Shhh
10. Dennis Ferrer – Hey Hey (DF's Attention Vocal Mix)
11. Dennis Cruz – El Agua (Original Mix)
12. Erick Morillo – Oooh (feat. Angel Taylor)
13. HONOR – Never Off (Hot Since 82 Remix)
14. Krankbrother – Circular Thing (Hot Since 82 Remix)
15. Joe T Vannelli – Get It On (Joe T Vannelli Dubby Mix) (feat. Rochelle Fleming)
16. The Martinez Brothers – Stuff In The Trunk (feat Miss Kitten)
17. Renato Cohen – Suddenly Funk
Disc 2 – Mixed & Compiled by Giorgio Moroder
1. Daft Punk – Giorgio by Moroder
2. Joris Voorn – Chase The Mouse
3. Giorgio Moroder – From Here To Eternity (Danny Tenaglia Superdub)
4. Cerrone – Supernature
5. Cloud One – Disco Juice
6. Joey Negro – Free Bass (Joey Negro Funk Equation Mix)
7. Alexander Robotnick – Problemes D'Amour
8. Gino Soccio -Dancer
9. Tensnake – Coma Cat
10. Giorgio Moroder – Evolution (Roger Sanchez Extra Terrestrial Mix)
11. Giorgio Moroder – Déjà Vu (feat. Sia)
Disc 3 – Mixed & Compiled by Mark Brown
1. Kings Of Tomorrow – KOT Anthem (Acapella)
2. Dele Sosimi Afrobeat Orchestra – Too Much Information (Laolu Remix) [Edit] 3. Moloko – Sing It Back (Mousse T's Feel Love Mix) [Edit] 4. Sandy Rivera – Come Into My Room (Dub) [feat. LT Brown] 5. Lee Cabrera & Thomas Gold – Shake It (Move a Little Closer) [DJ PP Terrace Mix] 6. Carl Bee – Brite
7. DJ Wady & Patrick M – Hulk
8. Eric Prydz & Steve Angello – Woz Not Woz (Club Mix)
9. Booka Shade – Mandarin Girl
10. MYNC & Wally Lopez – Esa Boca Linda
11. Worakls – Adagio For Square
12. Kings Of Tomorrow – Finally (Original Extended Mix)