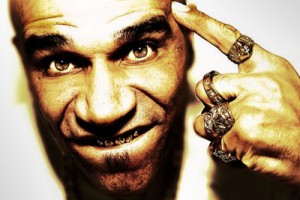 "Metalheadz was a springboard for the imagination: knowing that anything is possible. All Metalheadz artists went on to sign record deals. All people from different creative backgrounds – from David Bowie to fashion designers to fine artists – passed through the Metalheadz night at the Blue Note. It was a club where the bar was set very high with the way we could play music, and do what we wanted to do without any inhibitions for making cutting-edge music."
So speaks Drum n Bass superstar Goldie about those early days of his Metalheadz label (possibly the most influential Drum n Bass label in the world). Returning to the mix compilation arena after 2008's excellent mix 'Watch the Ride', the part time actor has submitted a collection of tracks that cohesively flows through the various forms that Drum n Bass has to offer and one which should stand as one of the finest fabriclive mixes to date. For this release Goldie has looked to his own Metalheadz label for the majority of his inspiration and it features a lot of up and coming producers alongside the more familiar heads:
"These artists are the new offspring, the new guard, the new generation, which is why I'm championing these guys so much. I've realized we have to move with the times, and also how important this family is to me as an individual. I need to look after my own. A lot of the people that grew up listening to Metalheadz are now a part of the legacy. It's like Buddhism, reincarnation. That's why I've invested so much time with these artist because I believe they have the forward thinking and concepts of music that will last for the next generation."
Check out this excellent breakdown of the Fabriclive mix as Goldie share his thoughts on every track featured on the mix. Enjoy!
01 Rido feat. Thomas Oliver – Twisted [Metalheadz]
An inverted track: a kid that comes from the classical world first, that then got into engineering, and then it was like he almost had this dirty little secret. He made this hybrid music that he didn't really think could cross it over into what we're doing. Of course, on seeing him in Europe and meeting him a few times, I told him that this is the label that will allow you to do that. Using his classical composition and his background, I've been allowing him to understand the power of arrangement, and how he can be slightly more journey-minded in his music. Rido came to see me at a Red Bull lecture, and it completely turned him around in terms of how he does music. I told him, 'It's about arrangement, and it's about the primal aspects of yourself, and allowing your spirit to make the music, and not to get caught up in the technology.'
http://youtu.be/Q7Pyb7a1CmQ
02 Marcus Intalex feat. S.P.Y. – Celestial Navigation [Soul:r]
This track I've been playing for ages. For me, it's probably one of his best tracks. Marcus is a very, very, very talented guy. He's a very straight-up guy, very straightforward. But when he applies alchemy to his music it becomes something else. And I think that particular track is so euphoric, it gives you the feeling of hope. It's one of those tracks that I always wish was on the label – for me, it's like the bird that got away.
http://youtu.be/a8X7w5oqu6Q
03 Lenzman – Lasers [Metalheadz]
This guy – if he wants it – can be one of the most prolific producers of this time. I tell you that without a shadow of doubt. He did a bootleg of Alicia Keys' 'Unthinkable,' and it's one of the most soulful things I've ever heard. He has the capacity to put the soul back into this music. 'Lasers,' to me, is probably Lenzman on a roller's vibe; it's a little less musical than he normally does, but it shows he has other aspects to his production skills. It just gets down to some primal funk. He's always, to me, had this slight Detroit edge to him. If I play this to Mad Mike, I know Mad Mike would dig it.
http://youtu.be/wglLtmIWkoI
04 Need For Mirrors – Lofar [Metalheadz]
'Lofar' is that dirty little Goldie aspect, that strand I have in me. It reminds of that big, underground, Blue Note straight-up track that 'Rider [Grooverider] would probably draw back in the old days. Something that would really send me out. It's a cross between Spirit and Dillinja for me, that kind of vibe.
 05 Enei – One Chance VIP [Critical]
Kasra's been looking after this guy, he's signed to Critical. I just think that it's one of those tracks that's technically together, his sound is really beautifully future. This track's been around for a while, but this particular VIP – it just has everything. It's got the bottom end, it's got the travel, it's just sharp. I've never met him but hearing this I'm very curious about him; you hear something like this and you know he's got so much more to give as an artist. This track reminds me of an artist that has distillation.
06 Subwave & Enei – The Mines [Metalheadz]
With 'The Mines,' I wanted to show the strand, so you can see the difference between Enei solo and when he works with Subwave. Subwave's slightly more musical, I think he has a really mature sound. And I want him to realize how far he's come in a year. A lot of artists – when they have 8 tracks, the last 4 – to make it a full album – can be the most difficult time in their lives. You need to be able to split their heads even more. 'The Mines' is a really good track, I like the expansion of it – and I think he's only going to keep doing more powerful work.
07 S.I.N. & Mutated Forms – Right Now [Spearhead]
This tune has been one of my favorite tunes for the last four or five months. The buzz of that tune reminds me of rippled glass. And the whole future horn thing is amazing. I think the vocal says something about "right now," and I just love the way it switches into really progressive drum & bass music. I want these guys to not worry about what anyone else says, and to keep making music like this. This is their best piece of work, the most free-spirited thing they've ever done.
http://youtu.be/MnpXi1vbZHg
 08 Fresh – The Gatekeeper [Ram]
This is the kid that keeps reinventing his bloody self. He's probably in my top five producers of all time, along with dBridge. I like how he's alway been very clever with a vocal lick. And also, when you think about it – this is the same guy that made 'Signal,' this is the guy from Bad Company, these are the tunes he was infamous for, and yet he's never stopped evolving. I also like how he's not scared to show people he's from the sample generation. That's the problem I think with music – once everyone got all electro-synthy and listening to dubstep, everyone just wanted to work with synths again. There's something good about mixing it up with synth and sample sound. I guess that's what the old guard of Metalheadz was about as well, it incorporated that. Spirit was very good at that. When hip hop stopped using samples and went primarily synths, it became very boring for me. So I like having an alliance with that – you can be right on the edge without being cheesy – and always have integrity.
09 DJ Hazard – Proteus [Playaz]
This for me, is actually drum & bass on a wider tip. Some of his production is really up there as well. When you just flip it a little bit, and allow yourself to be a little more roll-y like that, it works for me. It's the epitome of drum & bass – the typical tune, but a real good progressive tune that can work – nail on the head. You need tunes like this, to help get you in a switch up and make a more dynamic sound. You need to mix up the textures of what this music's about.
http://youtu.be/fwGiXdDKauI
10 Critical Impact – Translation [Metalheadz]
Critical Impact is a guy that hasn't been on the Metalheadz label for a very long time. For me, I keep saying to him – he thinks about everything too much! When I got into his head about this tune, I told him to make something that was a homage to the old Metalheadz, but with a new little twist on it. And I think the proof lies in the track I mix out of it – Adam F's 'Metropolis' – because to me, it sits so well with it. It's almost like two members of the family meeting.
11 Adam F – Metropolis [Metalheadz]
One of the golden oldies I pulled out. One of the best things Adam F has ever made – 'Metropolis' has stood the test of time.
12 Mutated Forms – Crowlin [Metalheadz]
I'd been talking about doing a project with Mutated Forms for a while, and I liked the step of this one – 'Crowlin' is almost like it's going through this page of love. I like the way they angled the vocal on it, but I also like the way they bring you through this section of twisted brass instruments, it just steps out. This has a little bit more of a raw vibe to it, which I loved.
13 Jubei – Patience VIP [Metalheadz]
Lenzman and Jubei are the two guys that I'm really looking after right now, they're my spear heads. Jubei can be quietly left alone, because he's making some real steppers. I've said to him, 'Mate, you're making us look good right now – you're giving our label a good name.' It's not just a one way street, this is about sharing something. 'Patience VIP' was also taking up the old Metalheadz habit of making a dub version, like 'True Romance' (dBridge), 'Kemistry VIP' (Grooverider), 'Drums' (Doc Scott). We always like to do that extra bit, just for the roll out, so when you do have a Metalheadz night, you can pull it from your war chest and it can deliver.
http://youtu.be/UBLUp0-ZBh4
14 Rido – Focus [Metalheadz]
The reason why Rido is so heavily focused is that I wanted to show his different sides. I've given you his classical tune, but this is showing more of his technical skill as a D&B producer, more in line with Ulterior Motive kind of sound, and more in line with what Jubei and Mikal are doing. It shows what he can do in third gear as opposed to fifth gear.
15 Basher feat. Xtrah – Convulsions [Ram]
Basher's been on the radar for just a second really, but he's been on the scene for quite some time. He did 3 or 4 tracks for Andy C, which were really well received and his evolution has been steady. He's quite complete and quite strong in the way he wants to style a tune.
16 Mutated Forms – Doubts [Grid]
When I've had a few drinks, this is the kind of tune that makes me want to tear my t-shirt off and jump into the crowd! I normally play this tune when the crowd starts being too trendy and they start looking at each other. It's the kind of tune where unless you get down, you might as well leave the club! This is like an old Doc Scott tune – it just lets go. Let's 'ave it, or let's forget it, you know what I mean? "I'm gonna put my boots on and kick your face in" kind of tune – I love it. Every now and again you need a real screw-face tune.
17 A Sides – One DJ [ClearSkyz]
A-Sides has been on the block for a very long time. What he's good at is seeing things from a roller's point of view: what works in a club, and what can get you from one tune to the next? This tune is really DJ friendly and really easy to mix, and it's just got a really nice tonal bass, which is very much on the edges of jungle. It can get played anywhere – it's a real party vibe.
http://youtu.be/xw4SIDpgurk
18 Mark System feat. Youngman – Hold It [Digital Soundboy]
Youngman – wow, bloody hell. I love what Shy's done with [Digital] Soundboy, and I love the fact that Youngman's really coming up and all the work he's done with Benga. And also it's a really sweet vocal – it reminds me of the late 80s sort of funk/soul. He's very different in that sense. It's more like touching on RnB, without being really bad. (laughs) It suits Shy down to the ground, it's the Digital Soundboy vibe.
19 Icicle feat. Robert Owens – Redemption (Alix Perez Remix) [Shogun Audio]
Owens have been around forever – a legend in terms of people sampling his voice or wanting to work with him. For me, what Icicle does with that track – the way that he uses the vocal…I haven't heard someone use his voice that well since Photek. Alix Perez, meanwhile, did to this track what A.I. did to [Rufige Kru's] 'Letting Go.' He looked at the format of the tune and thought, 'How can I make this darker?' He took an area of the tune and played it to his strength. He takes the musicality of the track and completely tones it down, he almost makes it binary. The way that he plays the vocal off, when it gets to that middle, there's a reverse cymbal – it's almost more on the lines of what Photek would do. Perez definitely stepped into Photek's arena with this one. It's almost like a dub version of the original: it's stripped back, and it's raw.
http://youtu.be/oG7pKQ1yf-M
20 Lenzman feat Riya – Open Page (Subwave Remix) [Metalheadz]
When I play this tune, a lot of people never got it. They're not even ready for this yet. It's a hybrid of what Detroit drum & bass is to me, it really is. It's simplistic beats but a real super big synth, and I love that. It's a monotonous thing, with a bit of soul sprinkled over it. Just so future.
http://youtu.be/WKZrl80-jK8
21 dBridge – Cornered [Exit]
Talk about someone suppressing a break. He has the art of sublime better than anyone else in the drum & bass scene. The beautiful thing about dBridge is the best mixes I've ever had for this label have come from dBridge: 'True Romance' – bam. 'Something About You' – bang. He has the ability to take your sound and completely remake what you've sent him; not a remix, but a remake. So with 'Cornered,' he's taken one of the most popular breaks in hip hop – basically 'Funky Drummer' – and he's suppressed it so hard, he's made it into a minimal thing all of his own. He just releases it on command, when he wants to; it's the control he has. For me, it reminds me of a breakdance crew where moves are being thrown and all of a sudden the quiet guy that's been watching throws a 1990 in your face. He has such a style. He's like the Ken Swift of drum & bass. He probably is my favourite producer, by far.
22 Jubei – Alignment (Boddika Remix) [Metalheadz]
I just like what he's done with this – he's wrapped the tune inside out. And he's managed to pull off something where I don't know what's going to happen next in the tune. I can read a lot of tunes. 9 times out of 10, if you give me 16 bars, I can tell you who made the tune. But something like this tune, it's almost another place I have to go to. I like the fact that we should be more experimental. I also like the fact that it's harking back to the metal box-sets ['Platinum Breakz Volume 1'], where I made everyone make a drum & bass track & a downtempo track. It's what I like to do with our music, because it's like graffiti – you can get anything from it if you've got the samples; you've got a really beautiful palette that you can expand on. You've got a really good set of colours: let's see what your take is on this canvas. I like what Boddika does a lot.
23 Mikal – Higher Forces [Metalheadz]
Mikal's featured so heavily on this because I am spearheading the new. And I cannot give him more compliments. I'm trying to make sure that he expands all of his arrangement skill, and that he starts to give us different textures. His output is a lot more intense – he doesn't have anywhere he can run and hide, he has to deliver something new and fresh. He's just feeling his way around his breaks and his arrangements, and I'm allowing him to do that.
http://youtu.be/9BUykr4QL4M
24 Wickaman & RV – Ev's Dead [Ram]
Now this is a dirty little tune. When I asked him why he named it 'Ev's Dead,' he said his mate's pet had died, or something mad like that. It's a lot of old samples put together, well arranged, but it's another great tune I've been mixing for a while now. I really like it, I would've proudly put it on the label. This tune is me slightly harking back, but looking forward.
25 J Majik & Wickaman – Old Headz [Metalheadz]
I just think it's probably the gem of the whole mix, only because J Majik has that sound that you will never forget where he's come from, in terms of artists. People forget that every artist that was signed to Metalheadz went on to be signed to a major record deal – everyone. And I think the fact that J Majik came back to that track, after doing all this different stuff, that it's a beautiful tune of solitude. It just drops the whole world on me. I can play that tune anywhere, and it works. People got it, and they hadn't even heard it yet – that's how good it is. It's an inherent thing. And for me, when a song sounds like it's already been here, like it belongs here, but it's brand new, there's something melancholic about that that you can't take away from it. The tune has got complete harmony and alchemy to me, and I love it.
26 Commix – Be True [Metalheadz]
That was the spearhead for Commix, full stop. It came out of nowhere, and it got into the heads of everyone. It was a very clever way of using a vocal. I like that I could play it in Cambridge at Warning, I could play it at Jungle Fever, I could play it at a predominantly drum & bass place, I could play it at Metalheadz – it just had a passport for all areas.
http://youtu.be/RphzR4J3k1k
27 Goldie – Timeless [FFRR]
If I can still be here after 16 years, playing 'Timeless' in a club…for instance, I was in Russia the other week, and I opened with 'Timeless' and closed with it, and people really loved it. People really wanted to celebrate that – people that were probably 2 years old when it was made! It's done exactly what it said on the tin. It motherly embraces the whole scene to this day. It's one of my most beautiful pieces of work, and it will still make my hairs stand up on ends 'til the day I die. I feel blessed to have been given so much love to make that tune. Because really, this was my record of my coming of age, and what it's like to be a young teenage angst adolescent coming from the inner city. When 'Inner City' was made, it kind of went over a lot of people's heads – we weren't under as much pressure then as we are now, a lot has changed socially. So it means a lot playing it these days, in places where people are having a hard time, where people understand what it means now as opposed to just the novelty of a record. This is the song that really launched my career and allowed me to do the things I wanted to do.