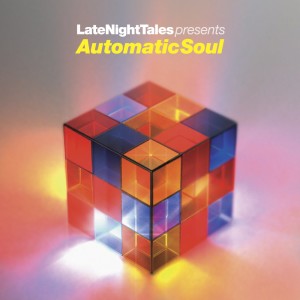 Compiling for the latest Late Night Tales compilation is Tom Findlay from Groove Armada. Teleporting you back in time, Findlay has put together a collection of electrified soul from the late 70's and 80's, including tracks such as Mtume's 'Juicy Fruit' and George Franklin Smallwood & Marshmellow Band's 'You Know I Love You.' Delivering the best from a sound that he believes has gone underlooked, he attentively places tracks on the album that have informed his "groove sets" over the years. From a genre which he describes as 80s R&B-infused music, with drum machines, synths and invariably brilliant vocals, classic track like, Thelma Houston's 'You Used To Hold Me So Tight' and Alexander O'Neal's 'What's Missing' have been hand-picked to feature on the compilation. Also on the tracklist is a modern-sounding disco edit of 'I Specialize In Love' and 'Don't Look Any Further' by Sugardaddy featuring Ronika. 
"It's not the most fashionable, but to me it's the perfect marriage of technology and soul, hence the title for this album, Automatic Soul. There are plenty of songs I could have included, and no doubt some that I shouldn't, but I've tried to represent what's best to me from this era. It's not a classic Late Night Tales. It's a pretty personal journey, which I hope some of you might be willing to share." – Tom Findlay
Along with Andy Cato, the other half of the Grammy Award-nominated duo, they've become one of the most established and best selling dance acts to come out of London. Since forming in the mid 90's, they've gone on to release albums on SONY and BMG, as well as sell out gigs all over the world. It is their raw electronic sound and borrowings from funk that have them continuously experiencing success year in, year out and why they've been chosen to compile 'Automatic Soul' for Late Night Tales.
Watch the sampler video for Automatic Soul.
Tracklisting 
1. Mtume – Juicy Fruit
2. Sugardaddy feat. Ronika – Don't Look Any Further
3. Meli'sa Morgan – Fool's Paradise
4. Bits N Pieces – Don't Stop the Music
5. Zapp – Heartbreaker (part I, part II)
6. Timex Social Club – Rumors
7. George Franklin Smallwood & Marshmellow Band – You Know I Love You
8. Royalle Delite – I'll Be A Freak For You
9. Rene & Angela – I'll Be Good
10. Donna Allen – Serious
11. Change – Change Of Heart
12. The System – You Are In My System
13. The Gap Band – I Owe It To Myself
14. Alexander O'Neal – What's Missing
15. Thelma Houston – You Used To Hold Me So Tight
16. 52nd Street – You're My Last Chance
17. Aurra – You And Me Tonight
18. Samson & Delilah – I Can Feel Your Love Slippin' Away
19. Wish Feat. Fonda Rae – Touch Me (All Night Long)
20. Sharon Brown – I Specialize In Love