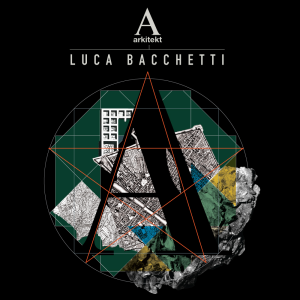 Arkitekt Recordings have announced that Luca Bacchetti will be mixing the sophomore edition of Arkitekt's compilation series. Baccheti will follow on from 2012's Arkitekt 01 which was compiled by Robert Dietz.
A Beatport Best Minimal Artist nominee in 2008, Bacchetti is a well known entity on the global scene and he has seen his work signed to high profile labels like Ovum, Crosstown Rebels, Wagon Repair, Defected and Sci+Tec. He is highly regarded for his versatile DJ sets and he is adept at playing in dark, sweaty basements as he is at sunny beach parties. Bacchetti lives and breathes for this diversity in his touring schedule, and you can see that those experiences have had an immediate impact on this compilation: "The chance to mix a double CD for Arkitekt has given me the opportunity to capture a photo of this moment in my life through two distinct paths, with as many facets and colours as possible, without being conditioned by a specific stylistic constraint."
The tracklisting is an interesting collection of artists and labels which includes tracks from Riva Starr, Layo & Bushwakka, DJ Hell, and Tale Of Us, alongside releases on labels like Ghostly International, Ninja Tune, Innervisions and Crosstown Rebels: "The right context for a classic DJ Set is the Club; but this CD has a different concept because although inspired by the club scene, you will be listening to it in other settings.' explains Bacchetti, "Therefore its construction is based on different criteria: those of colours. Whereas the first disk begins with deep tones which transform into a rich palette of bright colours, the second disk is more introspective with even deeper tones. It's as if from within the colour spectrum I start from green as the centre, to then set off and explore the opposites."
The mix will also include 3 original productions from Baccheti with the compilation closer, 'California', being an Arkitekt exclusive. Arkitekt 02 will be released 15th July 2013.
Tracklisting
CD1
1) Andrey Pushkarev – Picea Abies
2) Gel Abril – Ue Suala
3) Remain – Ralph (Ewan Pearson Remix)
4) Just Be feat. Jess Monroe – Don't Make Me Wait For You (Subb-an 5am Remix)
5) Hector – Stoned Raiders (H Foundation Remix)
6) Spieltape – Bag Of Bones (Chris Carrier Remix)
7) Luca Bacchetti – Atlantic
8) Jordan Peak – It's Time (Argy Rude Dub)
9) Mr. Tophat & Art Alfie – Crab at the Green Hunter
10) Mathias Kaden – Propeller
11) Riva Starr feat. Carmen Consoli – No Man's Land (Luca Bacchetti Dub Remix)
12) Layo & Bushwacka! – Born In The Backwoods
13) Joel Alter – The Drum
14) Luciano – Dance Unity
15) Quenum – Obama
CD2
1) Signal Flow feat. KMLN – Danadune
2) Isolée – Allowance (DJ Version)
3) Lusine – Another Tomorrow (Hanssen Remix)
4) Culoe De Song – Stig Boardersman
5) FaltyDL – Straight & Arrow (Four Tet Remix)
6) Mathew Jonson – Automaton
7) Tale Of Us – Another Earth
8) Marcus Worgull & Osunlade – Reno
9) Stacey Pullen – Any Which Way (Martin Buttrich Red Mix)
10) Ultrasone – High Dawn
11) Danny Daze – The Calm
12) CLOSE feat. Charlene Soraia & Scuba – Beam Me Up (Scuba's Dub Of Doom)
13) DJ Hell Feat. Bryan Ferry – U Can Dance (Carl Craig Remix V.2)
14) Mihai Popoviciu – Here
15) Luca Bacchetti – California (Excluisve Track)