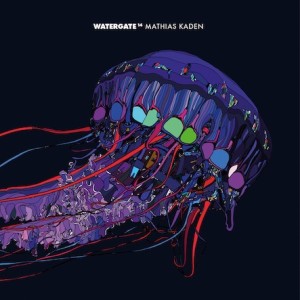 Mathias Kaden has been tapped on the shoulder for the 14th edition of the very popular Watergate compilation series. Previous entries in the Watergate compilation archives features luminaries such as Ellen Allien, dOP, Tiefschwarz, Solomun and Sebo K.
Kaden is well known for his deep minimal and tech DJ sets, as well as his productions for labels such as Vakant, Desolat and Freude Am Tanzen. This new mix looks set to carry on Kaden's and Watergate's rich tradition of championing quality underground techno and house, as the mix will feature names like Dj Koze feat. Apparat, The Mole, Villalobos, Motorcity Drum Ensemble, Moodymann and Kaden himself. There will also be 3 exclusive tracks on the mix from Rodriguez Jr, Marco Resmann and Christian Burkhardt.
This will be Kaden's 3rd mix compilation after 2011's Groove 131/CD 40 mix and 2012's SonneMondSterne x6 mix, and he follows up Ruede Hagelstein's Watergate 13 compilation of earlier this year.

Tracklisting
01. Merveille & Crosson – Nymphean (Visionquest)
02. DJ Koze feat. Apparat – Nices Wölkchen (Pampa)
03. Alix Alvarez – BDRK (Ovum)
04. Audio Werner – Ever (Minibar)
05. Ron Trent – Kids At Play (Electric Blue)
06. Rodriguez Jr. – Nausicâa (Exclusive Track) (Watergate Records)
07. Mathias Kaden – Troija (Desolat)
08. Marco Resmann – D. Teacher (Exclusive Track)
09. Daze Maxim – Farbfilm (Appollonia)
10. Ricardo Villalobos – Hands Up (Raum…musik.)
11. Emanuel Satie – Move (Mono Recordings)
12. Alejandro Paz – El House (Cómeme)
13. Motorcity Drum Ensemble – SP 11 (MCDE)
14. Moodymann – 4 One Night (KDJ)
15. Christian Burkhardt – Under The Wheel (Exclusive Track) (Watergate Records)
16. The Mole – Lockdown Party (DJ Sprinkles' Crossfaderama) (Perlon)
17. Tapesh & Maximiljan – This is (Leena Music)
18. Roman Flügel – More More More (Clone Jack For Daze Series)
19. Todd Terry & Simone Vitullo – Let Yourself Go Feat. Vjuan Allure (R plus L Remix) (Basica Recordings)
20. Kink & Marc Romboy – Delusion Of The Enemy (Systematic Recordings)
21. Mathias Kaden – Fin (Exclusive Track) (Watergate Records)
22. Daniel Stefanik – Distillery (Exclusive Edit) (Cocoon)