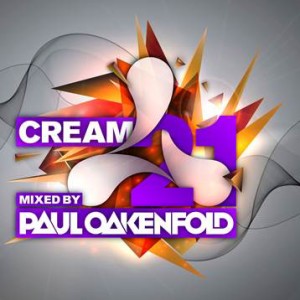 Paul Oakenfold will mix an upcoming 2CD compilation from long standing club brand, Cream, called Cream 21.
This new compilation will see Cream celebrate 21 years in clubland and it seems only logical that one of their original residents, Paul Oakenfold, will man the decks for this. Anyone who knows Cream's history knows that Paul Oakenfold has played a big part in it over the years as the legendary resident from 1997-1999, and he has been hailed as one of the world's leading DJ / remixers by some of the most respected media titles including CNN, BBC, Rolling Stone, BPM, Remix and more. Oakenfold might seem like he has been out of the spotlight of late, but he has kept himself busy composing film scores and can count movies like The Bourne Identity, Collateral, Shrek 2, The Matrix Reloaded and Swordfish on his portfolio.
This 2CD set will feature some of the classic tracks that has had the most influence at Cream events over the last 21 years.

Tracklisting
CD01
01 Adrian Lux ft. Dante – Burning (Topher Jones Remix)
02 Nadia Ali, Starkillers & Alex Kenji – Pressure (Alesso Remix)
03 Paul Oakenfold & Disfunktion ft. Spitfire – Beautiful World
04 Bruno Mars – Locked Out Of Heaven (Paul Oakenfold Remix)
05 Leama – Requiem For A Dream (Paul Oakenfold Remix)
06 Dannic – Ignite
07 Filth & Splendour ft. Marisa – Gold (Paul Oakenfold Remix)
08 Paul Oakenfold ft. J Hart – Touched By You (Mike Hawkins Remix)
09 Dirty South ft. Joe Gil – Until The End (Dirty South Remix)
10 East & Young ft. Tom Cane – Starting Again (Club Mix)
11 Matt Darey Presents Li Kwan – Point Zero (Leama & Moor Remix)
12 Julie Thompson with Super8 & Tab – Your Secret's Safe (Tom Fall Remix)
13 Marcus Shossow – Reverie
14 Stoneface & Terminal – Stuck In A Loop
15 Orjan Nilsen – Xiing
16 Paul Oakenfold – Southern Sun (Moe Aly Remix)
17 LTN – A Path To Nowhere (Jerome Isma-Ae Remix)
18 Motorcycle – As The Rush Comes (Gabriel & Dresden Sweeping Strings Remix)
19 Planet Perfecto – Bullet In The Gun (Eddie Halliwell Remix)
20 Push – Universal Nation (Orjan Nilsen Remix)
21 James Dymond "Overthrow" (Protoculture Remix)
CD02
01 A-Mase – Destination (Omauha Remix)
02 Speed Limits & T4L – Solar Guitar
03 Hard Fi – Fire In The House (Planet of Sound Remix)
04 Alex Metric & Jacques Lu Cont ft. Malin – Safe With You (Dub Mix)
05 Alex O'Rion – Don't Look Back
06 Planet Perfecto ft. Grace – Not Over Yet (Max Graham vs Protoculture Remix)
07 Delerium ft. Sarah McLachlan – Silence (Filterheadz Remix)
08 Markus Schulz ft. Justine Suissa – Perception
09 Tilt vs Paul van Dyk – Rendezvous (Orkidea Remix)
10 Jace Williams – Hope & Pray
11 Arty – Believe In Me (Instrumental)
12 Mansun – Wide Open Space (Perfecto Mix)
13 Rank 1 vs. M.I.K.E. – Elements Of Nature
14 Dave Gahan – Dirty Sticky Floors (Junkie XL Vocal Remix)
15 Kenneth Thomas – Heart On Fire (Vocal Mix)
16 Paul Oakenfold ft. Ryan Tedder of OneRepublic – Not Over (Robert Vadney's 3am Goodbye Mix)
17 Substate – Panama (Mac & Monday Remix)
18 Yahel & Liya – Creatures (Paul Oakenfold Remix)
19 L.S.G. – Netherworld (Oliver Prime Remix)
20 Planet Perfecto Knights – ResuRection (Paul Oakenfold Full On Fluoro Mix)
21 C.J. Bolland – The Prophet