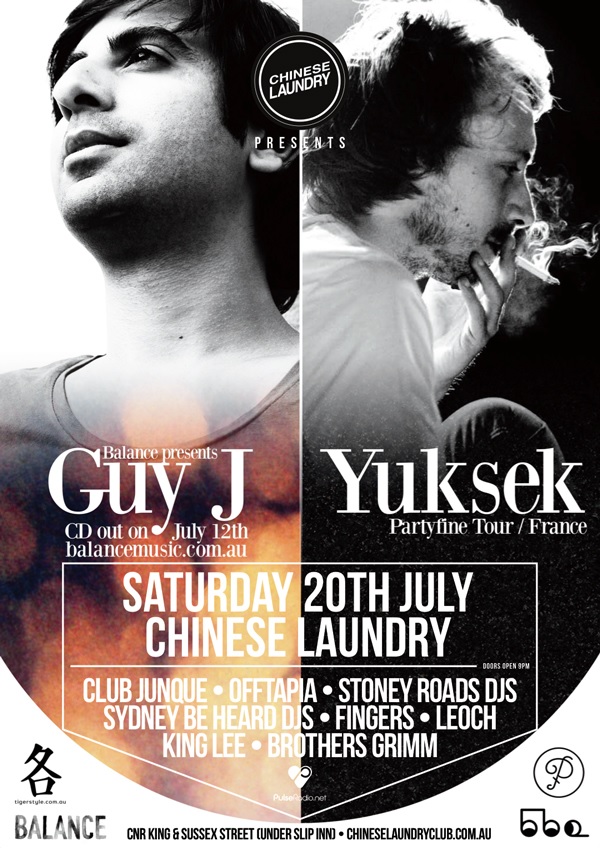 Saturday the 20th of July Chinese Laundry bring you a massive double headline bill, beloved Frenchman YUKSEK in the Laundry and Israeli GUY J  playing a 3 hour set in the Cave as he launches the new Balance compilation
Judging from the response to the previous laundry shows for these 2 acts, it's looking like this will be one crazy party you need to get down early for!
Full Line Up
Laundry
Yuksek (France)
Offtapia
Stoney Roads Djs
Sydney Be Heard Djs
Cave – Hosted By Symmetry
Guy J (Israel)
Club Junque
Damien Osbrone
leOCH
Sand Bar
Fingers
King Lee
Brothers Grimm
Doors Open 9pm
Drink Specials from 9pm til 11pm
GUY J: Guy J is a young, much-in-demand Producer, DJ and Live Act whose infectious production talents, busy worldwide touring schedule, electric live shows and groundbreaking debut album on Bedrock have all contributed to the success he's currently experiencing.
Along with a handful of his fellow countrymen, the Israeli is now at the forefront of a movement towards the melody-rich and emotionally charged roots of the House music spectrum. Guy's productions have earned praise for their tight, driving beats, shimmering, warm synths and blossoming, journey like arrangements. Straddling the lively, timeless space between ambient, house, techno and electronica he constantly maintains a melodic and highly emotive core to his music.
After setting floors alight with a volley of killer singles, Guy released his hotly anticipated full-length artist album 'Esperanza' on John Digweed's heavyweight Bedrock label in 2008. In classic Guy J fashion the whole album is a musically dense and diverse trip that is as dynamic as it is organic, keeping you hanging on 'til the very last drop has poured out of the speakers!
Now, in the heady aftermath of recent essential cuts like his 'Lamur' single on Bedrock, the 'Pleasurety EP' on Sudbeat, or 'Shaman' for Turbo records, and a string of tantalizing remixes for the likes of Global Underground and more, we await Guy's second artist album which is currently in the works. This summer season has seen Guy traveling far and wide with gigs at festivals like Global Gathering, Tommorowland, and tours to South America, Australia, USA and beyond!
YUKSEK: Yuksek (Pierre-Alexandre Busson) is a French electronic music producer, remixer, composer and DJ. He started his career under the name Yuksek after 10 years learning piano at The Conservatoire and playing in several bands. He gained popularity as a DJ all over the world and later with his band.
His debut album, 'Away from the Sea', was released in 2009. This album includes the singles 'Tonight' and 'Extraball' and received a lot of audience and media attention. Last year, Yuksek released his second album 'Living on the Edge of Time' after 2 years touring. This album took a pop direction but Yuksek's electronic flow was still there.
In the same time he was working on his own productions: Yuksek produced Birdy Nam Nam second album 'Manual For Successful Rioting' in 2009, The Bewitched Hands debut album 'Birds And Drums' in 2010 and is now working on Juveniles debut album (a French electro-pop band from France). Also known as one of the front runners of the new wave of French electro, Yuksek was (and still is) in demand for remixes and has done many for artists such as Gossip, Phoenix, Gorillaz, Lady Gaga, Oh Land, Chromeo, Mika, The Shoes, The Young Professionals, First Serve feat. De La Soul, Moby, Amanda Blank, Zombie Nation, The Prodigy and so on…