Danny Howells. What more can be said about one of the scene's most enduring artists? It almost seems wrong that Danny haven't compiled a Balance mix yet, but the stars have finally aligned and we are extremely pleased to announce that Danny Howells will be compiling Balance 024. Balance Music's Kris Swales caught up with Danny for a chat about  his plan of attack for Balance 024 and the stories behind some of his most famous mixes. You can read part 2 of the interview here.
Danny Howells is the textbook definition of a humble superstar.
Speaking to Balance Music from Los Angeles, where he's holed up between a run of US shows that will take him to Miami in a few days' time, the revered DJ confesses he doesn't listen to other DJs' sets because it makes him insecure about his own skills and selections. He's also worried that he won't have enough to talk about in a 15 minute interview slot yet, still invigorated from a day on the streets of LA indulging two of his non-musical loves – vintage clothes shopping and walking – he's apologising for "rambling" 40 minutes later.
The reason for today's catch-up? After years of campaigning from fans of the series, Danny has been tapped to put together Balance 024, following Radio Slave into the hot seat of Balance Music's flagship series. It's been two years since he compiled the Phase One set for his Dig Deeper label (like his own music making, the label is currently on the back burner) and five since Renaissance: The Mix Collection, so Howells is as excited about putting another official mix together for his fanbase.
"The last month I've spent more money on music than I have in the last 10 years, I've gone mental," Danny says, listing psychedelic rock and "bizarre, bonkers krautrock-inspired music" alongside his usual dance music fare. "I'm keeping a very open mind right now, because I know with Balance there are no rules. They're very flexible and open-minded, so in that sense they're the perfect people for me to work with."
Inspired by a recent trip to Glastonbury and trawling the depths of Spotify for obscure music, he's currently looking at a shortlist of "about 500 tunes" for Balance 024. He's now poring over the tracks, listening for "patterns" and "little threads", already ruling out anything from "the more energetic end of dance music" as he begins to put the pieces together.
"I'm seeing two distinct areas that I'm going to focus on," Danny reveals. "The more midtempo, melodic, not super cutting edge but more towards home listening clubby, still very soulful melodies. And then the deeper end of house music as well.
"Hopefully in 10 years time when someone still listens to it, they're not going to give a crap if every track on it was unreleased or anything like that. It's all about making sure it's got a timeless quality and you're not going to be sick of anything on it after two listens."
It's an approach which Danny has taken for all of his commercial comps over the years – not to mention the regular mixtapes he produced from the moment he took to the turntables in 1991 – and he was all too happy to share his memories of mixes that take pride of place on shelves and hard drives to this day.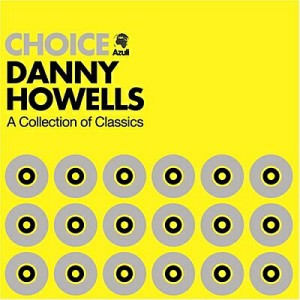 Choice: A Collection Of Classics
[Azuli, 2006]
When you were doing the Choice disc, were there more than 500 songs that you wanted to get on there?
"Something like that was insane, I wasn't looking at any timeframe. With the Balance I'm limited a little bit, therefore I'm not going to be really going back to the '60s or the '70s or the '80s. The bulk of it will come from the last year or so, and there'll be some choice cuts from ten years ago, a few classics thrown in or undiscovered tracks that I've felt passionate about. With Choice, there were no limits with that because it was more about trying to get my influences across. I was going through my entire collection of jazz music, of rock music, my soul collection, everything I have. It's the same with everything really, you look at everything you have in that particular period that may be appropriate and just go through a period of time when you're cutting things out and your list gets smaller and smaller and you're left with what you think is the music that will make sense on a CD and still sound good in five years or ten years."
On Choice, the transition from the In A Gadda Da Vida drum solo into Papa Was A Rolling Stone is a standout – is that something that was obvious for you, or was that an accident that you came across in the process?
"As soon as I knew I had permission to use the drums of In A Gadda Da Vida I knew I wasn't going to use the track, so I thought 'how can I get creative with it?' At that particular time I'd just finished doing that stripped-down, multi-track mix of Papa Was A Rolling Stone – I got the multi-tracks from the guys at Universal Motown to see if I could do something for the Motown Remixed album and I couldn't really think of an idea. I didn't want to put a house beat underneath it or do anything modern. So I was stripping it right down so you could hear elements that you couldn't really hear on the finished record. Very shortly afterwards I started doing the Choice and started thinking 'what could I put next to Iron Butterfly?', and it made sudden perfect sense. I had the multi-tracks to hand so I could get a little bit more creative for the actual Choice mix as well. They're both tracks from my childhood, two songs my mum used to play as a kid. Iron Butterfly is from '67 I think, and Temptations is from '71, so it made sense to put those two tracks together."
You've said that mix is one of the only ones of yours' that you like to go back and listen to – why don't you listen to your other mixes so much?
"There's a couple that I do and it's the Choice album and it's my [2002] Essential Mix, and I think it's because they're both very eclectic and they both span decades with music that goes back to the '60s. It's not like I dislike any of my old mixes or anything like that, I'm pretty sure if I put any of them on – apart from the really, really old ones – I'd be quite happy to listen to them again. I think for me it's like looking at pictures of yourself or looking at old videos of yourself, it feels a little bit weird. I'm sure I will one day, especially my old tapes – I still want to archive a lot of my old mixtapes, so that means I will have to listen to them. Even when I put stuff on SoundCloud, like a live set, I can't sit down and listen to it for more than half an hour maybe before I start picking faults in it. A night that I thought was really good, I might hear a mix and go 'oh fuck, maybe it wasn't that good after all?', so I find it's better to leave things in the memory."
Going back through your old mixtapes, can you actually remember the first proper mixtape that you did that you started sending out into the world?
"I know I did a couple and I remember I didn't mark them up or anything because I thought if someone comes around and finds it and thinks that I've done a demo tape, they're going to listen to it and [think] it's fucking awful. So I just usually marked them up and put a secret name on it for the first couple of tapes, that was probably like '91. I think it was like the beginning of '92 where I… didn't really start sending them out into the world because I didn't know who to send them to – mostly to mates – but it was just pure luck that a few of my mates were close with Digweed. I knew Digweed anyway but not as well as they did, and I never would have dreamt of giving him a tape because I didn't really think I was at that stage of giving things out. I think it was the end of '91 or beginning of '92, they gave one to Digweed and after that I got more confident and started giving out tapes on a monthly basis, or sometimes every fortnight. I was making a new tape, sending them out to my list of clubs and getting rejections every single week."
Can you remember the particular one that Digweed got where he said "come and play a show"?
"I do remember it and I know I've still got it, but I can't remember what I called it. I'll remember it when I hear it because I remember I did a couple of a capellas over other tracks and they worked really, really well actually. When I do dig out that tape and put it on, I'll know after half an hour. I think there was a C+C Music Factory acapella and another one as well."
Going from doing those mixes every fortnight or every month, it was still quite a while until you did your first officially released mix, right?
"Well it was quite a while, but it wasn't really. At the time I think it felt like a long time. I started DJing '91, doing clubs regularly in '92, and my first official mix CD came out in '98. I think it was six year, I'm sure it was '98 – the one I did for ID&T in Holland, Nightlife Report. Actually no, my very first one might have been the Jackpot one, I'm sure it was '98. I did a label comp for Jackpot Records where I used all their… oh yeah, it was the remixes of the – fucking hell, sorry, I'm trying to remember what I've done in my life! I did quite a few label compilations before I did [1999's] Nocturnal Frequencies, and Nightlife Report only came out in Holland."
Stay tuned for part 2 where Danny discusses Nubreed, Renaissance, Global Underground and more….