The love that he has for music is evident: his eyes light up whenever he talks about a track he loves; the tone in his voice gets that little bit more excited when he tells you about a new artist that he's discovered; he gets more animated as he discusses those early teenage years discovering new music. At first, his proclivity towards the use of the word 'amazing' might seem like he is still finding his way around the English language, but after meeting him you realize that Guy has an genuine fascination and humble appreciation for the world that he finds himself in – an amazing world which has allowed him to follow his dreams and pursue his passion. He is possibly one of the nicest, down to earth and unassuming DJs on the international circuit, and possibly one of the most talented too.
Brought up on progressive house around the dawn of the millennium Guy has rejected musical fads over the years, instead opting to stick to his love for lush, melancholic melodies that is driven by deep techno beats. He's currently running the very successful Lost & Found Recordings under the guidance of John Digweed – a platform from which he has released his own progressive bombs (like the label's debut self-titled track, 'Lost & Found') alongside cuts from artists like Kevin Yost, Secret Cinema and Roger Martinez. He really does seem an obvious choice to be part of the Balance family, and he has delivered a truly spectacular mix that will go down as one of the best in the Balance archives. As this is being typed his Balance Presents mix is currently sitting at number one on Beatport's Progressive House chart – a feat that is extremely rare for a mix compilation, and the reviews to date has been sensational. Then again, did we expect anything less from Guy?
Balance caught up with Guy at his hotel room about an hour before he was to start his set at New Guernica in Melbourne. Guy was still a bit affected from jetlag and we only had 15 minutes, but he was in good spirits as it was the start of a long 3 month Balance launch tour that would see him travel around the world, and he couldn't be more excited…
==============================================================================
This is the start of a 3 month Balance launch tour for you. It's quite a nice irony that you're starting the Balance launch tour in Melbourne which is also where the Balance Series started…
Yeah, it's starting in Melbourne which is amazing! I always have really good gigs in Melbourne and now that the Balance comp is coming out and I'm doing the start of the launch here in Australia… well, it's amazing!
You do seem to have a very loving fanbase here. Why do you think it is that Melbourne loves you so much?
To be honest I don't know… it just seems like I can play a bit more expansive in Melbourne. In the past I've also had amazing parties in Brisbane and Sydney of course, but it does seem like the crowds in Melbourne is more receptive to me trying new things.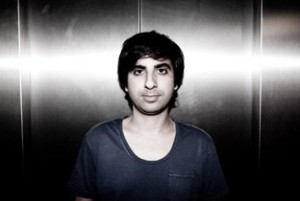 You said to Pete Tong in a 2008 interview that 'the most terrifying thing that I've done to date was play at Global Gathering'. Do you still feel that nervousness/excitement before each performance?
Ha! Yeah I mean… I do get… uh… I don't want to say nervous as that has an almost negative connotation to it, but I do get excited. When I come to Melbourne or go to Argentina for example, and I see all the familiar faces, I do get more happy and excited before a tour as I'm looking forward to share all of the new music with the people – some of those people have been following my music for years now so it's great to share my career progress with them. So yeah, places I keep going back to I really get a happy and excited feeling before each tour. On the other side, whenever I go to play at a new festival, or tour a new country, I'm also always very excited to explore the unknown – how they will receive my music, what the country's going to be like. Yeah, I suppose I feel more confidant playing in places like Melbourne or Argentina where I know I have a good following, so I'm more inclined to surprise the crowd a bit more. In a new venue, festival or country you just never know what to expect.
I'm just going to go back a bit to your youth… I read that you were a Guns N' Roses fan as a teenager. At what stage did you get into electronic music?
Around 12/13…? The Israeli music scene is an amazing place for electronic music. Around the time I started listening to electronic music the main genre in Israel was Psy-trance and trance, and then a little bit later DJ's like John Digweed, Sasha, Anthony Pappa, Armin, Tiesto etc. started to get big. There really is a big scene in Israel. I used to listen to a local radio show in Tel Aviv which played electronic music every weekend. You could hear artists like James Holden and Way Out West on local radio… it really was amazing! You would never expect to hear artists like that on commercial radio… I mean, I was only a child so I didn't really know the difference between commercial and underground dance music, but in Israel at that time you would hear a lot of odd stuff that you wouldn't expect to hear… proper good music… So this is how I got into that. Then the next big step for me was when I went to Tel Aviv Love Parade around the age of 14…
You went to Love Parade at the age of 14?!
Yeah, it was just across town in Tel Aviv! There you would hear music and tracks like Andy Ling's 'Fixation', tracks from Bedrock, Morel's 'Driving to Heaven', 16B… like… it was…
It was the best time in Prog…
Yeah, it really was! It was the best time!
You mention Andy Ling's 'Fixation', which you also remixed recently. You are starting to get a reputation for your updates on classic tracks. If I had your skills I would love to go back and give all of those classic tracks my personal take on it!
Haha, I'm working on getting through all of them man…!
Me personally would like to hear what you could do with Café Del Mar's 'Energy 52'. Is there any other tracks out there that you would like to remix, or are there any Guy J remix/bootlegs out there that we still haven't heard?
I recently remixed two tracks that will be coming out soon which you will hear tonight: Bedrock 'Heaven Scent'…
Oh my… Yes!
…yes, and also one of my all time favorite vocal tracks: Omid 16B 'Driving to Heaven'.
You've certainly come a long way since those days! You're even running your own record label now called Lost & Found. It's well documented that John Digweed had a big role in getting this up and running for you, but I was wondering if running a record label was something that you always wanted to achieve or was it something that just happened and you went with it? How much of a role did John Digweed have in this?
I think it's fair to say that it definitely wouldn't have been the same without John's support. It was his idea to start the label so to have the support of Bedrock really is amazing as I grew up with Bedrock releases – to be part of that family feels really good! Bedrock really is amazing in what they are doing; they've been in the industry for over a decade now and they are still delivering quality music and merchandise to their audience. I never thought that I would be able to run a label as I'm not a business man or anything like that… So yeah, I don't think I would have been able to do this without Bedrock.
In the press release you state that you're a big fan of Northern Exposure compilations series, so I think we can safely assume that you're a fan of mix compilations in general. Do you still make time to listen to mix compilations?
Yes, I'm definitely a fan! From when I started listening to electronic music till about 3 years ago I was constantly staying on top of new compilations, and I was always buying and downloading (legally of course) new mixes from my fave DJ's. Lately though, I just don't have the spare time for that anymore. I mean, to really get your head round a new mix you need to allocate at least an hour of your day and really listen to the mix. Unfortunately, I'm one of those people that can't do more than one thing at a time – either I'm listening to it or I'm not. I've definitely had favorite compilations and live sets over the years but I always seem to come back to John Digweed's sets. His sets really are an amazing lesson in how to build up a mix, project a certain vibe or do the perfect warm-up – sometimes all in one hour! This is exactly what I tried to achieve with my Balance mix.
Listening to your Balance mix it's quite dreamy and subdued at the beginning before you slowly work your way up to your excellent Echomen remix. It's a cliché, but this mix really is a journey. The great thing for me about it is that it sounds like a club set, but it is also suitable for home listening. Is that something that you were consciously trying to achieve?
I'm glad you asked that question because the goal is to find that happy medium between both. I really wanted to create something that is suitable for listening to whether you're driving, walking, at the office, preparing to go out or even after you've gone out. I think that any mix that can accomplish that will achieve a timeless quality…
You remixed and edited all the tracks on the CD… I'm curious as to how that process came to be?
At the start I thought that I would use some of my original tracks and collaborations (with other artists), and then I considered doing a more conventional DJ mix which just… uh… confused me. In a way it almost would've been easier for me to just go ahead and produce all the tracks instead of trying to get a shortlist of tracks from other producers. I'm really comfortable working in a studio so I just decided to go that route – if there's an idea in my head I know exactly how to get it out. Some of the tracks on there are bootlegs that I already made for my sets so I thought this would be a good opportunity to put them out – listen to the Pavel Petrov/DJ T accapella bootleg; those are two great tracks that just work well together. The Echomen track is a bootleg that I made after I bought the acapella so that's how that one came to be. Way Out West, Hernan Cattaneo, Henry Saiz and Navar are all artists that I know through music so I asked them if I could use their tracks for this Balance mix. Thankfully they were up for it!
It sounds like it was quite a process to decide which way to go…
Yeah, I was so excited to be part of Balance, and I just wanted the compilation to be perfect you know?! Some of biggest names that I adore have a Balance comp to their name so I wanted this to be super perfect. I wanted to present… well, it's called Balance Presents… but I wanted to present myself in a way so that people who already know what I'm about could get their money's worth. For those who weren't aware of my music, I really wanted to make sure the comp is a true representation of what I'm about, and also acts as a good entry point into my sound.
I can imagine you must have gigabytes unreleased productions on your computer. Do you ever open up that 6 year old music folder to find some inspiration?
Actually yes, as an artist you learn a lot of new stuff as time progresses and you get better at producing. It's always worth going through your older, unfinished or unreleased projects as inspiration can come from anywhere.
Finally, I have to ask this: the first track on the Balance Presents…
….sounds like Radiohead?
Ha, yeah… it's quite remarkable…
It's crazy yeah?!
I know you're a massive Radiohead fan so I'm just curious, if you could remix any Radiohead track which one would you choose?
Ooh… man, that's a tough question! You know, when I  want to remix a track it's usually because it's an older track that I would like to update for my current sets, or I will hear a track and feel that I would like to give it a different point of view… not better, just different… but Radiohead… all their tracks are perfect. What's the point trying to remix a track that's already perfect?
Interviewed by Walter Juan