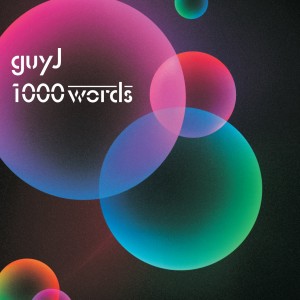 Guy J is a young, much-in-demand, innovative producer, DJ and live act, whose infectious production talents, busy worldwide touring schedule, electric live shows and groundbreaking debut album on Bedrock (released in 2008) have all led to this point and the creation of his stunning new masterpiece: "1000 Words".
Along with a handful of his fellow countrymen; this young Israeli (now based in Antwerp; Belgium) is now at the forefront of a movement towards the melody-rich and emotionally charged roots of the house music spectrum. "1000 Words", spread over 3 CDs on John Digweed's forward thinking Bedrock label showcases the extraordinary talents of Guy J. His productions have constantly earned praise and gained many fans for their tight, driving beats, shimmering, warm synths and blossoming, journey like arrangements. Across 3 CDs he is given the space to explore the exciting, timeless space between ambient, experimental electronica,  techno and beyond. Throughout, he constantly maintains a melodic and highly emotive core, creating a body of work structured and presented in a highly creative way.
CD1 gives a nod to classical composition, taking the form of a series of movements; as Guy J mixes, segues and joins the dots between individual tracks to create an end result that is greater than the sum of all its parts. Opening with a swirl of muted bells and atmospheric pads, the lush opening 3-track sequence is concluded with the gorgeous; heavenly vocals of Miriam Vaga. Just when you think you know what's coming next; the soaring; melodic shower of "Fall Star", Guy J lets the spirit of the Mad Professor into the studio and spins into a fizzing dub experiment ("The Right Place"), before getting horizontal and beatless with the melancholy beauty of "My Organ Friend", to draw the second movement to a close. "Spica" wouldn't be out of place on the Bladerunner movie soundtrack; as it cuts to the pulsating disco swing of "Electric Tale" with a nod to Giorgio Moroder and morphs and breaks down into the spiralling, ecstatic chords of "Lamur", before flowing into the distant storm of a perfect sunrise moment ("I Lost My Head"). The majestic beats reprise of "Stay Cow" and the stunning finale of "Fly" (once gain featuring Miriam Vaga), bring to a close what can only be described as a listening experience that has been heaven sent. Imagine being able to create your perfect DJ set; having the skill as an artist to create all the music you want to play; all the subtle emotional nuances; mood swings and changes of direction at your fingertips.
CD2 is packed with expansive dancefloor creations. In classic Guy J fashion this is a musically dense and diverse trip that is as dynamic as it is organic; gradually progressing; turning up the pressure; keeping you hanging on until the very last drop has poured out of the speakers! From the deep, swinging, handclapping grooves of the opening sequence of "Doves", "Limbo" and "Easy Can Be", with their subtle, uplifting, intelligent beauty, this is a true journey by DJ; a master artist at work. As the mood moves towards the deep; throbbing intensity with lights down low ("My Thought Of You"; "Sahara" and "Teva"), it's easy to become lost in the swirling electronic music as Guy J pushes emotion buttons, exploring the psyche of the dance, exploring possibilities, forging ahead into the future.
The full-length club mixes gathered on the unmixed CD3 rounds of this superb package in style, dedicated to bringing any self-respecting DJ's record collection up to speed with a selection of some of Guy J's finest moments from 1000 Words. From the majestic opening notes of "Doves", he first explores deep house vibes with an opening trio of low-slung grooves sprinkled with melodic flourishes, Detroit techno influences and dub drops. "My Thought Of You" turns up the energy levels and gets a little twisted, alongside "Teva" exhibiting no nonsense big room floor pressure. "Sahara" lightens the mood with ethereal beauty, while the stunning, gorgeous voice of Miriam Vaga will prove to be a highlight in any set anywhere. The heavenly atmospherics of Detroit techno bring CD3 to a close with the moody magnificence of "Azimuth", which is preceded by the pure melodic beauty of "I Lost My Head" and energetic techno styling of "Heliscope", showing that Guy J is one of the stand-out electronic artists in the world today.
TRACKLISTING:
CD1 – Mixed
1. Intro
2. Moderate
3. Guy J & Miriam Vaga – You
4. Fall Star (Rising Mix)
5. The Right Place
6. My Organ Friend
7. Spica
8. Electric Tale
9. Lamur
10. I Lost My Head (AM Mix)
11. Stay Cow
12. Guy J & Miriam Vaga – Fly
CD2 – Mixed
1. Intro
2. Doves
3. Limbo
4. Easy As Can Be
5. My Thought Of You
6. Sahara
7. Teva
8. Guy J & Miriam Vaga – No Under But You
9. Heliscope
10. Personal Haze
11. Azimuth
12. I Lost My Head (PM Mix)
13. Whirlpool
CD3 – Unmixed Full-Length Club Mixes
1. Doves
2. Limbo
3. Easy As Can Be
4. My Thought Of You
5. Sahara
6. Teva
7. Guy J & Miriam Vaga – No Under But You
8. Heliscope
9. Personal Haze
10. I Lost My Head
11. Azimuth
Australian Release Date: May 13th, 2011