UNITED WE STREAM LONDON TEAMS UP WITH RINSE FM AND IN PLACE OF WAR TO LAUNCH A SERIES OF VIRTUAL MUSIC EVENTS TO RAISE MONEY FOR THE CAPITAL'S ARTISTS, FREELANCERS AND CREATIVE INDUSTRY WORKERS.
Electronic music is a cultural phenomenon impacting cultures and breaking down walls between different parts of societies in all corners of the globe. It is in the nightclubs where people of all genders, races, nationalities, sexualities come together to dance.
Up next is Anjunadeep who are hosting a virtual event at Village Underground on the 31st October with a lineup including; Amy Wiles, Penelope, Daniel Curpen, Just Her, Kidnap, Jody Wisternoff.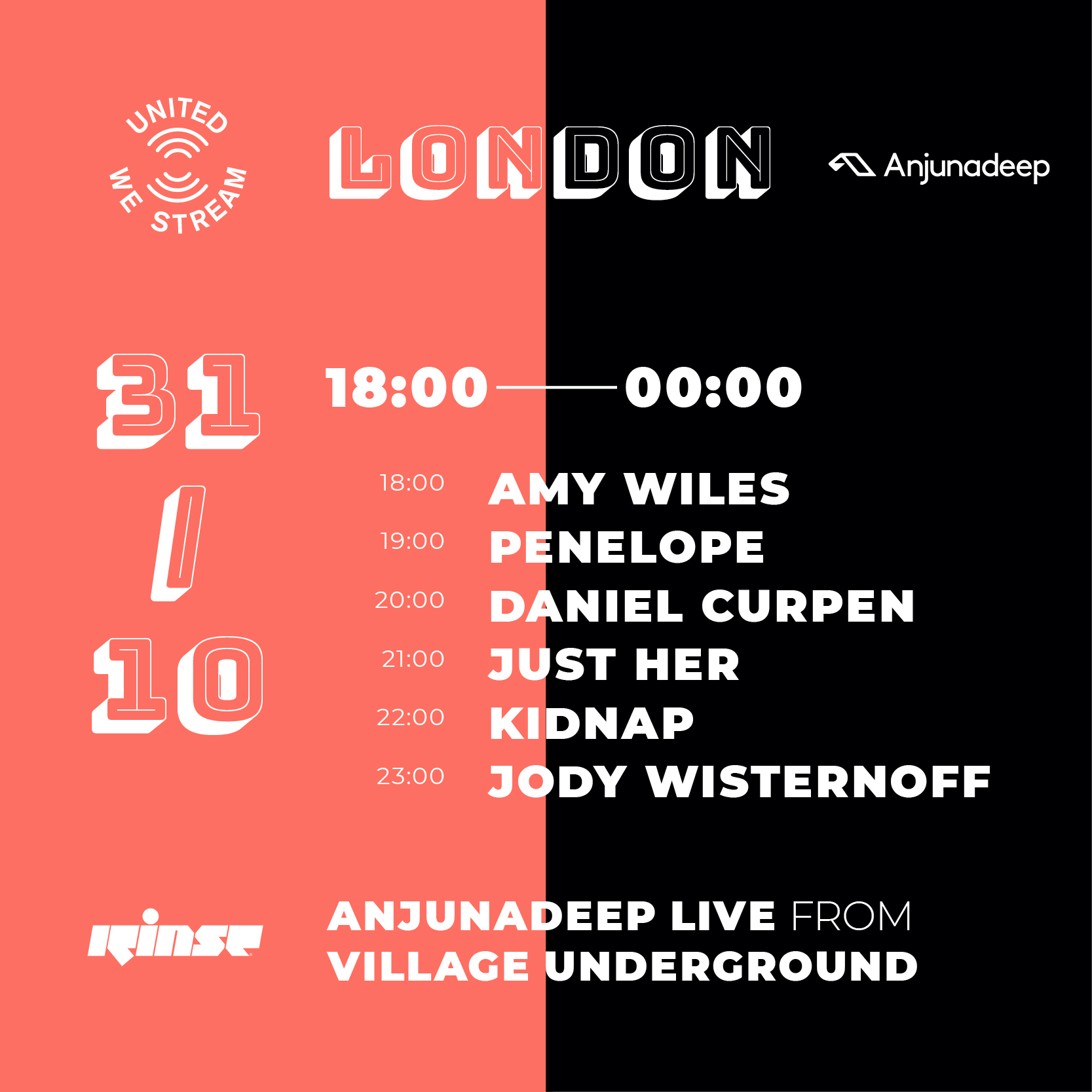 The Covid-19 pandemic has shut down nightlife since March, furlough and self employment schemes are disappearing, mass redundancies are continuing and live music looks likely not to return until spring 2021 at the very earliest. Some of our household establishments in dance music are receiving lifelines to survive by the skin of their teeth whilst other nightlife workers are falling between the funding cracks and the government is asking them to rethink, reskill and reboot. We cannot sit still and watch our scene effectively die and we know you can't either.
Originating in Berlin in response to the pandemic, the United We Stream campaign has grown into a cultural platform raising more than £1.5 million from 25,000 donations, 400 hours of streaming from 2,056 artists in 422 iconic venues and with the help of 200 volunteers in over 90 cities around the world.
We are six volunteers working in music that decided to become part of the global United We Stream movement and bring together a growing number of truly excellent artists, labels and promoters (drum and bass label Hospital Records, deep house and melodic techno label Anjunadeep, residents of underground techno nightclub FOLD and secret special guest). We are producing great DJ sets from our favourite London venues (The Cause, Village Underground, FOLD) and streaming them over four Saturdays, starting on 24th October for you to enjoy from the comfort of your home.
They will be available to watch free of charge on the United We Stream London socials, Mixcloud LIVE, YouTube and Facebook, and will be broadcast Live on London's airwaves via Rinse FM. And you can visit our Crowdfunder page to donate to our fund that will be paid out to artists, freelancers and nightlife industry workers, who devote their lives to creating culture that we love.
75% of the donations will be paid out to artists, freelancers and creative industry workers who apply for a grant
Together through United We Stream London you can donate to support them through this time and we can show them that they are not alone. We are incredibly grateful for all you can give. Respect. Repay. Reunite.
Night Czar, Amy Lamé said: "Nightclubs and grassroots live music venues are at the heart of London, but sadly the industry has been devastated by the coronavirus pandemic. This has had a huge impact not only on our beloved venues, but also the wide range of jobs they support, from artists and promoters, to bar staff and technicians. Despite these tough times, our creative and talented artists continue to come up with new and exciting ways to keep the music scene going and I'm delighted that this series of virtual music events will be raising vital funds for our nightlife workforce."
Greg Marshall, General Manager Association for Electronic Music said: "Great to see the launch of United We Stream London. Streams to bring joy and motivation to raise money to support freelancers, artists and creative industry workers. Another hugely positive example of solidarity and care for those in need within the electronic music community.