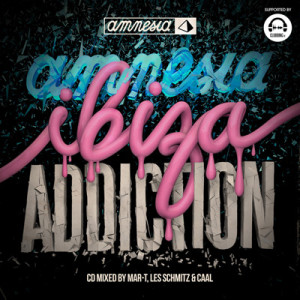 Ibizan super club, Amnesia, is set to release its annual showcase of the best producers and DJs to play the white Isle this season.
The double mix CD features tracks and remixes from Maceo Plex, Dixon, AME, Hot Since 82, Claude von Stroke, Mark Knight and many more.
Amnesia Ibiza Addiction is out August 15th on DJ Center Records.
Tracklist:
CD1 – Mixed by Mar-T
1. SEFF – Keep it close
2. Luca Donzelli & Mar-T – Crazy Culture
3. Truth be Told  – What is House (Mar-T Remix)
4. Sergio Parrado & Pla Ziom – Yo Yo Baby
5. CAAL – Bubbleboom
6. Nathan Barato – Get Good Kid
7. Chiqito – Bronx tale
8. Donzelli  – Pog Bounce
9. Hot Since 82  – Dont Touch the Alarm
10. Claude Von Stroke – Urban Animal (Dixon Dub Mix)
11. Doorly  – Ladies Night
12. Re.You – Don't Stop
13. Sable Sheep – Crown
14. George Morel – Keep it Rolling (Mendo Remix)
15. Gus Gus – Crossfade (Maceo Plex Remix)
16. AME – Den Ratta Feat. Vulkano
CD2 – Mixed Les Schmitz & Caal Smile
1. Mark Knight – The Return Of Wolfy
2. City, Kevin Saunderson – Good Life (Matt Smallwood Remix)
3. Simon Doty, DJ Dan – Smash The Disco (Original mix)
4. Muzzaik – Invent (Original mix)
5. Umek & Heartik – Unlock My Synth (Original Mix)
6. Siwell, Mike Vale – Sunset Melody (Original Mix)
7. Kevin Andrews, Jason Chance – Work The Track (Original Mix)
8. Chris Lake feat. Jareth – Helium (Umek & Mike Vale Remix)
9. Bontan – Move on out
10. David Penn – A different story (D. Ramirez Fully Analogue Remix)
11. Samuele Sartini – Lovelight (Siwell Remix)
12. Caal Smile, Lutiani – We Can Dance (Original Mix)
13. DJ Shu-ma & Les Schmitz – Get Funky (Original Ibiza Mix)
14. Oliver Schmitz – Rock Ride
15. Les Schmitz – Break It Down (Original Mix)