You could say Chymera is a veteran of the underground electronic music scene; after all, he has been producing and releasing since the early 00's. Known for pushing a more melodic and introspective sound which always float on top of warm and inviting techno beats, it is no surprise that the Irishman have had productions featured on past Balance compilations (2008's epic 3 disc effort from SOS, and Funk D'Void's 2012 release), alongside other mix series' like Global Underground and Renaissance. The producer have a knack for earworm melodies which have found him favour with some of the more discerning techno labels including Delsin, Ovum, Figure, Outpost, and even Papa Sven's Cocoon Recordings. A regular on the European circuit, the Berlin-based producer has this year alone featured in clubs like Tresor and Watergate alongside festival appearances. We are very excited to finally release his Balance selections podcast: A 60 minute deep techno excursion which is hypnotic and full of depth.
Balance Selections Q+A
Name:
Chymera
Location:
Berlin
Alias/Producer name:
Chymera / Merrin Karras
Facebook:
www.facebook.com/chymeramusic
Soundcloud: 
soundcloud.com/chymera
Labels affiliated with:
Ovum, Cocoon, Dirt Crew, Connaisseur
My last 3 releases:
What music did you listen to as a child?
I grew up listening to all sorts of pop music on the radio but it was in 1991 when I heard Metallica 'Metallica' for the first time that I really, seriously got into music. I started learning guitar as a result and became a huge devotee of all kinds of metal, alternative and rock music throughout my teenage years.
When was the first time that you realised that you liked electronic music?
I'd heard dance music throughout my teenage years but absolutely hated it. At the turn of the century while attending college I first heard proper underground dance music, and realised I just hadn't heard the good stuff. A friend was a DJ and showed me how to mix. He played all sorts of house, and I still remember some of the first tracks I heard through him like the Daft Punk remix of Ian Pooley, old Roy Davis Jr tracks and some french funky house. A world apart from metal and alternative but for some reason they twigged with me.
When was the first time you saw a DJ in a club?
The first proper DJ that I saw was Dave Clarke playing at the Red Box in Dublin in 2000, just a couple of months after I first started listening to electronic music. That's when I became a massive convert to techno and really threw myself into my journey. I devoured all kinds of techno, electro and later branched into house properly as well.
Which producers/artists/acts inspire you?
There are various artists who have inspired me over the years, people like Steve Rachmad aka Sterac, 90's era Green Velvet, DJ Duke, Early Daft Punk, Petar Dundov & Mathew Jonson. Chateau Flight and DJ Koze are exceptionally organic yet highly technical producers. Lately I've been listening to a huge amount of ambient music and some of my favourite artists there are people like Steve Roach, Robert Rich and Steve Moore. Also not strictly electronic, though certainly pioneers in their own right, Ministry and Nine Inch Nails.
What was the last album that you downloaded/bought?
Asylum Party 'The Grey Years'. I found it on a Youtube browsing session. It's an compilation of two albums by a french band from the late 80's. Melancholic coldwave with an epic undercurrent and fantastically well produced.
What is your current production and DJ set up like?
My studio is a mix of hardware and software and has been relatively like that for the last 10 years or so. My favourite hardware synths are the Nord Lead 2, Roland Juno 106 and Vermona Mono Lancet. My favourite software synths are the TAL line of Roland clones. My DAW is Ableton which serves me very well. For DJing I use USB keys in CDJs. The vinyl vs. digital debate is so tired. I thought it had died years ago but unfortunately it seems it's here to stay.
What releases do you have on the horizon?
I have two major releases coming up – First up is a whole new album under my ambient alias Merrin Karras. That's coming on A Strangely Isolated Place in June. Then in July I release a techno EP on Cocoon Recordings – my first time appearing with them since 2010. Also later in the year there will be a re-issue of my one my earliest tracks with new remixes, but I can't say much more about that at this point. Also I'm working on some tracks with Aril Brikha right now. The first one saw the light of day on Connaisseur Recordings and I think we'll put out an EP on Aril's own Art of Vengeance.
Where can we hear you perform?
My next gig will be at Chocolate Festival in Lausanne on June 4th. I'm also currently about to start work on preparing my first ambient live set as Merrin Karras and planning an event for that here in Berlin here in July. I'm still trying to decide how to approach that, it will probably a slightly different set up to how I usually play live. I play with a very stripped down set up of controllers and 2 small analog synths but I think the ambient set will lend itself to an even broader range of hardware.
Tell us more about the podcast you made for Balance?
The process of selection took the longest. I dug around on Beatport and Bandcamp, my promo inbox and my existing collection and listened to a whole slew of stuff, from ambient to electro to house and techno. Then once I'd made my final purchases and downloads I listened through all the tracks carefully and made a shortlist for the mix. The actual mix itself then took about 3 days from start to finish. I had initially intended to cover some different ground but the tracks that meshed here told their own story. It's quite a  hypnotic mix of house and techno, the mixing style for this one lent itself more to very smooth blends. Once I sorted out the rough order, I mixed the final take live in Ableton connected to a midi controller set up like a DJ mixer. I'm very pleased with all the tracks and artists which appear here. My absolute favourites would be the Gilbr Remix of Len Leise which opens, Sebastian Mullaert's superb remix of Moosfiebr, Shatrax's remix of Trevino, Deniro putting in a very sterac-esque effort on Penal Colony and the closing remix of Moderat by Shed, which has such a perfect end of the night vibe for me. I realised as I typed this that a considerable portion of the mix is comprised of remixes, which is actually quite unusual for me.
My Recommendations
The top track in my DJ wallet currently is:
Moderat – Running (Shed Remix)
If I could recommend only one of my tracks for you to listen to it would be:
Pump
If I could recommend only one track for you to listen to it would be: (for example: this could be anything from your favourite track ever to the weirdest track you've ever heard)
Steve Roach – Reflections in Suspension
My favourite Balance compilation is:
Deetron – Balance 20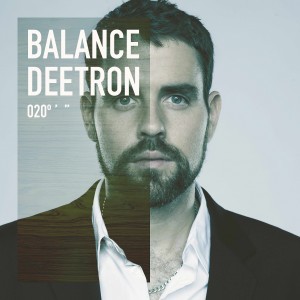 The last movie I watched that I really liked:
Mary Poppins
My favourite TV show:
Of all time is Battlestar Galactica, and currently = Archer
If I could choose anyone to compile a Balance comp it would be:
Al Jourgensen