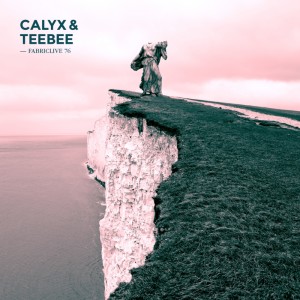 Drum & Bass luminaries Calyx & TeeBee are set to deliver a mammoth mix for 'FABRICLIVE 76'.
Calyx & TeeBee are from London and Norway respectively and have somewhat dominated the drum & bass scene for around two decades, especially so in the UK. With a solid repertoire of solo work the pair have each had their own independent releases on highly regarded labels such as Moving Shadow, RAM and Metalheadz. Since coming together in the mid 00's the pair have been focused on their collaborative efforts and have now had two critically acclaimed albums together,'Anatomy' (2007) and 'All or Nothing' (2012) both of which topped sales charts at the time.
For 'FABRICLIVE 76'  Calyx & TeeBee take in what they see as the full spectrum of drum & bass, blending together a massive 34 tracks. The pair have included both standout club tracks as well as tracks that are more home listening friendly, as the pair goes on to explain, "We recorded the mix using 3 CDJs. We spent a long time considering the selection and how we wanted the journey to evolve – we wanted it to reflect what we love both inside and outside of the club environment. We're really happy with the ebb and flow of the mix, which in turn is down to the countless producers making some sublime and immensely varied Drum & Bass we're into at the moment."
In is what to be a broad showcase of the drum & bass sound, it seems a good place to further get to know the diverse sounds of the genre that regularly grace the rooms of farbic.
'FABRICLIVE 76' is out on the 5th of September on fabric."
Tracklist:
01. Friction & Skream feat. Scrufizzer, P Money & Riko Dan – Kingpin (Calyx & TeeBee Remix)
02. Gridlok & Prolix – Revenge
03. Calyx & TeeBee – Skank
04. Xtrah – Compulsive [unreleased] 05. Ulterior Motive – 2098
06. Calibre – Instant
07. TeeBee – Human Reptile (Calyx & TeeBee Remix)
08. Break – Duck For Cover
09. NC17 & KC – Slimeville
10. Nasty Habits – Shadow Boxing (Om Unit Remix)
11. Calyx & TeeBee feat. Kemo – Pure Gold
12. Gridlok & Prolix – Riot VIP
13. The Prototypes – Pale Blue Dot
14. Teddy Killerz – Demolisher
15. Chris.SU – Solaris VIP
16. Break – Kill Dem
17. Syron – Here (Calyx & TeeBee Remix)
18. Michael Woods feat. Ester Dean – We've Only Just Begun (Calyx & TeeBee Remix)
19. Break – Tempted
20. Noisia & Calyx & TeeBee – Hyenas
21. Teddy Killerz – New Drums VIP] 22. Hidden Turn feat. Azaco – Time
23. Blu Mar Ten feat. Agné Genyté – Break It All Apart (Break)
24. Break & DLR – New Design
25. Calyx & TeeBee – Strung Out VIP
26. Arp XP – Five Black Forms (Hybris Remix)
27. Teddy Killerz & Brain Crisis – Local 2
28. Brain Crisis – Hands Up
29. Bricky Mortar – Salford John (Dub Phizix Remix) [unreleased] 30. Optical – The Shining (Ed Rush & Optical Remix)
31. Teddy Killerz – Off World
32. Fierce/Optiv – Surface Noise
33. Kemal & Rob Data – Star Trails
34. Calyx & TeeBee – Elevate This Sound