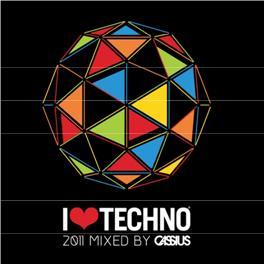 Taking place on the 12th of November, this year's I Love Techno is held at the Flanders Expo in Ghent and as ever is expected to attract some 35,000 people across 5 rooms making it Europe's leading indoor dance event. Cassius is one of the headliners this year, next to other hot acts such as Laurent Garnier, Boys Noize, Crookers, Paul Kalkbrenner, The Subs and many many more.
Cassius in 2011 is the same Cassius as the one of 1999 when the hit single "Cassius 99" took the world by storm in the defining year of the introduction of French electronic music to the planet.
Cassius' Zdar & Boombass, two best friends from Paris have never stopped. Taking time to deliver high risk albums & singles, and more than anything, never falling into the comfort zone. They gave us a short but great list of singles and albums until coming back in 2011 with the special hit for girls, "I love U So", taken from their The Rawkers E.P. out on Ed Banger Records.
Release Date: 18 November
Tracklist
01 I Love Techno 2011 (continuous DJ mix by Cassius)
02 DJ Mehdi – Pocket Piano
03 Torb – Rubidrama
04 Joe Cocherell – Who Are You Where Do You Come From
05 Steve Rachmad – Fruit Of The Room
06 Sneaker – You Think You Think4
07 Public Energy – Three O' Three
08 Cassius – The Sound Of Violence (reggae rock dub)
09 Marcel Dettmann – Quicksand
10 Loosefingers – 303 Indigenous
11 Roots Panorama – Threee (Deetron mix)
12 Steffi – Yours (feat Virginia)
13 Function – Variance
14 Gerd & Elbee Bad – HOUSE (Arttu remix)
15 Zinc – Nexx
16 Head High – It's A Love Thing (Sigg Gonzales Island mix)
17 Mike Dehnert – MD
18 JTC – Recall
19 Reese & Santonio – Bounce Your Body To The Box (Power Hit mix)
20 Boys Noize & Erol Alkan – Avalanche (Terminal Velocity) (feat Jarvis Cocker)
21 EQD – Equalized #002 A
22 Mondo – Work Me Baby (Rootstrax version)
23. Cassius – I love U So