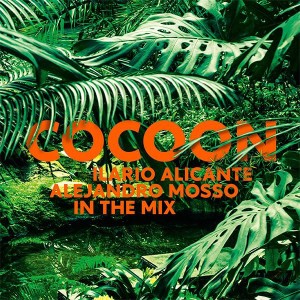 llario Alicante and Alejandro Mosso will mix the latest Cocoon Ibiza 2CD compilation.
Alicante has been DJ-ing since the age of 15 and. to date. is known as the youngest DJ to have performed at the Timewarp festival when he was only 22. It was his 2008 'Living Near Africa' EP on Cecille Records which opened doors for him after finding its way into the record bags of DJs like Sven Väth, Ricardo Villalobos and Richie Hawtin. Since then the Italian has gone on to release a host of productions on labels like Sci-Tec, Alphahouse, Atypical Farm and, of course, Cocoon. Known for his energetic minimal sets and techno spiced productions, this mix will show another side to Alicante as he has submitted a more house orientated workout featuring artists like Omar-S, Henrik Schwarz, Trus'me and more.
Argentinean Alejandro Mosso might better known to punters as Funzion – the deep and soulful minimal house moniker he operated under for several years releasing on Sushitech, Esperanza, Alphahouse, Telegraph and Lomidhigh. In 2009, Sven Väth heard the Mosso track, 'Somebody',  which he licensed  for the 10th volume of his Cocoon compilation; it's no surprise then that recently Mosso has been signed to be part of the Cocoon booking roster. Mosso's in charge of disc 2, showcasing house and minimal techno elements which is representative of Mosso's live set – all tracks in this set are either an Mosso production or remix, and they are all unreleased and exclusive to this comp.


TRACKLISTING
CD1
1. Terekke – Amaze
2. Henrik Bergqvist – Go for what hurts
3. A Sagittariun – The Circle Stops Somewhere (MD2 MELLO MIX)
4. Ryan Elliot – Still Steppin
5. Head High – Keep on Talking
6. Dj Qu – Undescribed2 (She's blank)
7. Cosmin TRG – Semipresent
8. Trus'me – Somebody
9. Henrik Schwarz – When Things Are Difficult
10. Parris Mitchel – Near My Eyes (Cassy Remix)
11. Ritzi Lee – Reverse Processed
12. Benjamin Damage – 010x
13. Mathew Jonson – 911, How Can I Help You?
14. Omar S / Parris Mitchell – It's Money in the D / Follow me Ghetto (Acid) Accapella
CD2
1. Alejandro Mosso – Selva
2. Alejandro Mosso – Yguasu
3. Alejandro Mosso – Aconcagua
4. Alejandro Mosso – Tupungato
5. Christian Sol – Kids At Work (Alejandro Mosso Remix)
6. Alejandro Mosso – Unreleased
7. Alejandro Mosso – Nightwalker
8. Alejandro Mosso – Grinding Love
9. Alejandro Mosso – Cashmere