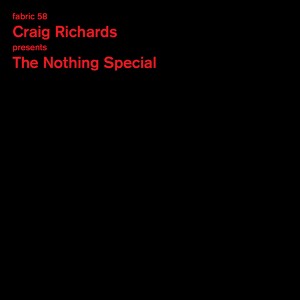 As fabric's musical director, Craig Richards has not only defined the musical output of the world's most iconic nightspot, but in doing so has shaped British underground music. Craig has been with fabric since its birth and has revolutionized the concept of a residency. Always allowed complete freedom to invite artists and program them around his own regular weekly performance, his forward-thinking attitude continues to be a guiding light on the musical horizon. The Nothing Special allows his versatility to shine through further as he invites his most admired live acts to Saturdays at fabric for an irregular series of obscure affairs featuring the likes of Shackleton, Deadbeat, Pole and more.
"After an eleven year residency at fabric I wanted to create a night that required me to play all night around Live acts, setting the scene for each one as the evening progresses. Playing a gentle deep warm up for Moritz Von Oswald, or a twitchy electro set before Dopplereffekt, or a disco set before Emperor Machine, all of which I am capable of because of the variety within my residency." – Craig Richards
The Nothing Special reflects the diversity and steadfast nature he is renowned for and echoes his obscure and considered approach to his craft. Starting back in the mid 90s with Andrew Weatherall and Keith Tenniswood's Two Lone Swordsmen guise the mix ebbs and flows in a timeless manner taking in rare cuts from Conscious Minds on his own Tyrant label, Housey Doingz from fellow fabric resident Terry Francis's Wiggle imprint and an unknown cut from early Chicago legend Gemini, whose work is notoriously difficult to license. With most choices unfamiliar, the mix is typical of Craig's bold approach and resolute manner and imparts untold rewards after close inspection.
Tracklisting
Two Lone Swordsmen – Rico's Helly [Cacophony] Carl Finlow – Reprise [Seventh Sign] Melchior Productions – Come Closer (Dub) [Playhouse] Gemini – At The Party [Spencer Kincy] Housey Doingz – Flying Saucers [Wiggle] San Proper & Awanto 3 – Black Burger [Rush Hour] Arne Weinberg – My Testimony [Technoir Audio] G-Man – El Jem [Swim] Conscious Minds – Expressions [Tyrant] Eco Tourist – Magelonic [Ifach] L.I.E.S. – Comeback Dust [Echovolt] Joel Mull – Leaving Ground [Läsk] Marcel Janovsky – Vamos A Otro Piso [Regular] Loop Hotel – Room 202 [Loop Hotel] Conforce – Intimidation [Meanwhile] Johnny Fiasco – Kalimba [Klassik Fiasco] Convextion – Premiata [Down Low] Maurice Fulton – Space [Transfusion] Semtek – Lotos Eaters (Neville Watson Remix) [Don't Be Afraid] $tinkworx – Los Gatos Lloros [Delsin]
fabric 58: Craig Richards presents The Nothing Special from Fabric London on Vimeo.