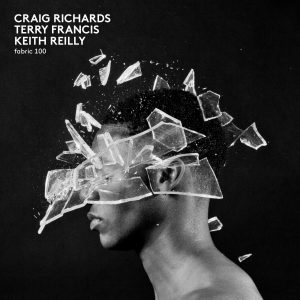 Wrapping up the fabric series in its current format, fabric 100 is a triple disc package drawing on the 19 years of fabric night club's existence and its associated record label.
Residents Craig Richards and Terry Francis contribute mixes for volume one and two whilst fabric founder Keith Reilly delivers the third.
Though distinct in style the artists remain fused by their efforts imparted to the electronic scene in London over almost 2 decades. Craig Richards, who also plays a key role in programming the club's lineups, delivers an electro-infused take whilst Terry's contribution is full of the influence of his early nineties contemporaries like Tiefschwartz and Pure Science. Keith's soulful vocal-inspired house mix leads the historical series to its century.
Tracklisting
Craig Richards
1. Monolake – Nmos [Imbalance Computer Music] 2. Alphacom – Journal Square [NNY Records] 3. Solar X Brother Nebula – S.I.S. (Savile's Jetset Radio Remix) [Legwork Records] 4. Setaoc Mass – Flying Buttress [Figure] 5. D. Ball – Transition [Ourtime Music] 6. Larry McCormick – Ride Low [Shipwrec] 7. Simulant – New Machines [Scopex] 8. The Woodleigh Research Facility – The Question Oak [Rotters Golf Club] 9. Rutherford – Pseudo Judo [Talking Machines] 10. Reedale Rise – Lucid Flow [Where We Met] 11. Craig Richards – My Friend Is Losing His Mind [The Nothing Special] 12. Fred und Luna – Monotonikum [Optimo Music] 13. Nancy Noise – Azizi's Dance (Andrew Weatherall Remix 1) [Beyond Paradise Recordings] 14. Reade Truth – Where Has Love Gone [Cartulis Music] 15. Simon Haydo – Obey? [Hivern Discs] 16. DMX Krew – Bush Baby Bug Eyes [Breakin' Records] 17. Detromental – Rewind [Central Processing Unit] 18. Mike Ash – The Fizz [Super Rhythm Trax] 19. Vectorvision vs Convextion – Zy Clone [Legwork Records] 20. Orgue Electronique – Suck Seed [Creme Organization]
Terry Francis
1. Patrick Di Stefano & Luca Doobie – Get Through (Inxec Remix) [OFF Spin] 2. Jamie Fairley – Round 'n' Round [1trax] 3. Jose Vizcaino – Vicious Vision [Kinetic Groove] 4. Joeski – Cross Over (feat. Jesante) [Viva Recordings] 5. Audiojack – Turya [Crosstown Rebels] 6. Gel Abril – Carpet Sneak [mobilee records] 7. Mauri Fly – Red Tribal ( Silvano Del Gado Remix) [Stereophonic] 8. Blue Wig – No Ignorance (Part 1) [Eye 4 Sound] 9. Pure Science – The Way We Use To [Pure Science Communications] 10. Argy – Love Dose [Poker Flat Recordings] 11. Kevin Yost – Dancer Dancer [mobilee records] 12. Andre Salmon – Where Is The Salmon [Family Matters Records] 13. Francesco Robustelli – After Midnight [Dogmatik Records] 14. Jaded & James Petrou – Toni's Pain (INXEC's Morphine mashup) [Beef Records] 15. Terry Francis – Wipeout [Eye 4 Sound] 16. Tiefschwartz – Oberton [Souvenir] 17. Terry Francis – Emotional Blackmail [Eye 4 Sound] 18. Funtopia feat. Jimi Polo – Do You Wanna Know (Club Mix) [Two Tribes] 19. Creep Show – Safe and Sound [Bella Union]
Keith Reilly
1. Vondelpark – California Analog Dream (Robag's Moppa Habax NB) [R&S Records] 2. Alex Attias Presents Mustang – Finding Who We Are (feat. Colonel Red) (Quarion Dub) [Compost Records] 3. SIOPIS – Really Love Ya [Get Physical Music] 4. Taube – Belle La Vie [Taube] 5. Low Deep T – Casablanca [cut&play Records] 6. Eddie Richards & Gideon Jackson – Biscuit Barrel Blues [London Housing Benefit] 7. Eddie Richards – Droids [Plastic City] 8. Rancido – Devil's Den [Connaisseur Recordings] 9. Hanna Haïs feat. Sandra Nankoma – Mwala Wei'ka (Original Mix) [Open Bar Music] 10. Hyenah – Tale Of The Dirt feat. Aquarius Heaven (Rampa Remix) [Freerange Records] 11. Kollektiv Turmstrasse – Ordinary (Mick Rubins Deep) [Musik Gewinnt Freunde]