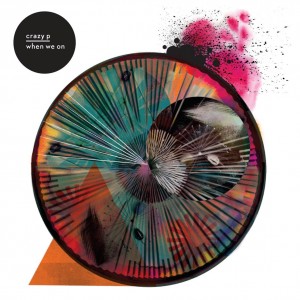 Following on from 2008's critically acclaimed Stop, Space, Return, Crazy P return for their fifth studio album When We On, released through 2020 Vision.
Alongside the wealth of brilliant remixes they have served up recently, When We On shows how far Crazy P have come since 2008. Whether it's the anthemic 'Beatbox', with its freeform acapella work, grinding Prince—style guitar and haunting strings, the reflective 'Eruption', driven on by a rave piano figure and lead singer Danielle Moore's plaintive cry of "Let me be the one you run to" or, at the other end of the scale, the Detroit techno-esque 'Sonar', with its increasingly frenetic payoff, this is an album packed full of potential singles. They might be crazy, but they sure know where the tunes are located.
"With Stop Space Return we wrote the majority of that as a band,"explains Jim Baron. "For this, we decided to strip it back to me and Toddy (Chris Todd. Guitar/Keys) writing with Danielle. We gave Danielle the Loop Station and she's really taken to it. You can layer vocals, you can hear harmonies immediately, so she can jam along with us now. It shaped a lot of the vocal sound for the album. There's a tune called 'We Can Only Be Who Are' which has big vocal layering, and there's a lot of that. It's probably a bit more… grown-up."
Chris expands on the theme: "We had quite a big year last year for lots of different reasons and we had difficulties too and I think a lot of the writing came out of that. It's a little bit more reflective and thoughtful than previous albums."
For Danielle, it's been a revelation in the way they work. "It was back to basics," she says. "I'd have a go on the keyboards using two fingers or I'd have a go on the drum machine. It was like being at school or in a huge sandpit where you've been given loads of buckets to muck about with. We had a loop station as well which I've always been nervous of and this time it was like right let me have a go of this and it allowed me to record my vocals."
For Danielle, the album narrative is the camaraderie between its protagonists. "Their friendship came through in creating this album. The way we worked created a lot of intimacy between us and a definite warmth to the album."
Despite the suggestions of melancholy from the band, and they certainly know how to emote when the moment's right, they haven't forgotten how to party. "We're open for service, we're open for love," sings Danielle. Crazy, but true.
VIS215CD – Crazy P – When We On by 2020VisionRecordings
Tracklisting
01. Open For Service
02. Changes
03. Beatbox
04. The Unbearable Lightness of Being
05. Heartbreaker
06. Twisted
07. Sonar
08. Your Dark Energy
09. Eruption
10. Wecanonlybewhoweare
11. Future Beat
Release date: October 7th, 2011