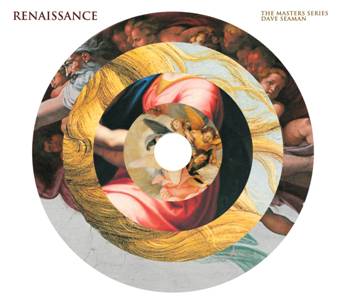 After a brief hiatus, Renaissance return to the scene with much anticipation and a continued goal to bring the best underground, electronic music to the world.
First out of the traps is a Masters Series, mixed by Dave Seaman. Dave has long been a favourite of Renaissance and his previous contributions to the series have been amongst the most popular, so we were very pleased that he agreed to take up the reins once more. Dave uses those years of experience to deliver, over two discs, a defining chapter in his illustrious career; both in track selection and execution. Introducing tracks from a variety of electronic sub—genres and editing most of them specifically for the CD, Dave is able to create a spellbinding and sometimes surprising mix.
The mix builds steadily until the ethereal beauty of Fred Everything's mix of Buzzin Fly's Flowers And Sea Creatures track 'AM' takes over. Combining the 'Dubstramental' and the Vocal mix, to create his own version, Dave teases out the drama to great effect. The temperature increases with the first of several exclusive tracks, the majesty of Stephan Hinz's 'The Paths We Take' soon slides into the (standout) Thermal Bear Remix of Sasha's 'Cut Me Down'. Dave's ability to twist heads comes into play over the second half ofthe disc as he blends genres to create a hypnotic tapestry using Erol AIkan's (much talked about) remix of 'Connan Mockasin — Forever Dolphin Love' and yet more exclusives from a host of contemporary beat smiths including King Unique, Henry Saiz & Paolo Mojo. Perfectly paced, the mix rounds off with the pomp and style you'd expect from both Dave & Renaissance as Moby's ghostly croon, in the guise of the Gregor Tresher Remix, brings home the bacon.
The second disc immediately starts with more urgency, and sparks into life with further exclusive content, as Dave's own album dub of Solee's 'Reflect' sets the pace. The energy is maintained with the choice of perfectly sequenced, percussive cuts, the new Boys Noize track (forthcoming on Cocoon) 'Adonis' providing punctuation and Seaman's sublime mixing and layering adding the finesse. Layo & Bushwacka enter the fray with the wonderful 'What Do You Say Now' before the home straight where Dave really flexes his musical muscles. The closing section is signaled as the Green Velvet remix of  Aeroplane's 'My Enemy' rumbles into full sight. Cutting up sampled loops adds definition and texture to this hulk of a track, which then releases into an exclusive mash—up of Christian Smith 'Pitanga' and the Pan-Pot Remix of Slam's 'Lifetimes'. Before the blissed out closer of Jemmy 'Suede Desert', which fittingly edited by Dave rounds off the mix.
With a mission to create a diverse listening piece of music (rather than a club set) it's obvious that Dave has been digging deep into his record bag to winkle out some buried gems for this one. Pulling in favours from a host of 'special friends' to ensure that this mix is jam-packed full of exclusive tracks and upfront business.
Tracklist
CD 1
1. Andres Solano – Tierra Blanca
2. Maher Daniel – Malgra
3. Mike Callander – The Blinding Light & The Darkness
4. Trandel Feat. Chriss Ronson – Chaki (Original Mix)
5. Flowers And Sea Creatures – AM (Fred Everything Stripped Mix & Fred Everything Dubstrumental)
6. Stephan Hinz – The Paths We Take
7. Sasha Feat. Krister Linder – Cut Me Down (Thermal Bear Remix)
8. Egostereo – Muse
9. Moonbeam – Motus
10. Connan Mockasin – Forever Dolphin Love (Erol Alkan Remix)
11. Habersham – Dry Spell (Paolo Mojo Remix)
12. My Devices – For Flying Insects (Modifier Remix)
13. Henry Saiz & Marc Marzenhit – Radiance (King Unique Remix)
14. Jimmy Van M Feat. Steve T – We Are Children
15. Moby – Lie Down In Darkness (Gregor Tresher Remix)
16. Modifier – Clockwork
17. Lanny May – Drowned Bells
CD 2
1. Andi Muller – Comedown
2. Ryan Davis – My White Zebra (Estroe Remix)
3. Dibby Dougherty & David Young Feat. Ryan Vail – Morning Light
4. Solee – Reflect (Dave Seaman Unreleased Dub)
5. Paul Strauss – Coffee Break
6. Cumiks – El Final
7. Boys Noize – Adonis
8. Layo & Bushwacka! – What Do You Say Now
9. Ben Archbold – Time Has Run Out
10. Paolo Mojo – Wasted Youth (Original Mix)
11. Bitrok – Constellation Down (Jamie Stevens Golden Return Dub)
12. Muzarco & Nir Shoshani – Stringer Bell (Marc Marzenit 'Life Cycles' Remix)
13. Aeroplane – My Enemy (Green Velvet `Love My Enemy' Remix) Feat. samples from Attaque – Don't Stop & 116 db – Lips Of Love (Facundo Mohrr Mix V1)
14. Christian Smith – Pitanga c/w Slam – Lifetimes (Pan-Pot Bass Times Remix)
15. Jemmy Feat. JD Jnr. – Desert Suede (Dave's Plinkapella)
Release date: October 14th, 2011