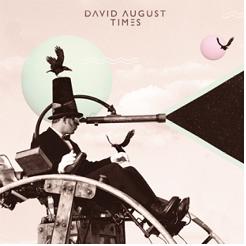 One of the most interesting artists in the field of electronic music releases his long-awaited debut. It's title "Times" is appropriately chosen, though indeed it seems to be timeless.
David August has waited quite a long time, cancelling all gigs for a year to fulfil himself in his musical yearnings in a very personal album. It is an intimate production, realising his fanatic dedication, of which love in all its facettes is the main motive. The listener will find his own emotional journey in it, starting with "Help me Through", a journey leading to David August's world and soul. It is a defined and compelling universe, offering quite a musical spectrum. The producer who has been trained in classical piano – he studies "Tonmeister" in Berlin at the moment – uses classical instruments of course, f.i. Clarinette in "Hommage" – a logical step, it seems.
There is a widespread thought of crossover throughout the 14 tracks without being eclectic – the native of Hamburg has a very precise idea of a sound even apart from being played on the dancefloor.
The artist's voice is an instrument, too, perfectly suited to the overwhelmingly refined song sound structures. "Times" is to be explored again and again, functioning on all levels, be it on the dancefloor, the living room or on earphones.
TRACKLISITING:

01. Help me Through
02. For eternity
03. Phenomena
04. Anthem
05. Consolation 1
06. Until we shine feat. Yvy
07. I don't care about your Goal
08. Hommage feat. Wanja
09. Blossom
10. Velvet
11. Consolation 2
12. Watch your Dtep
13. Voices from the Dust
14. Forgive me if I Bleed
Release date: 22 March