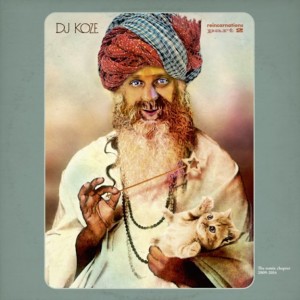 The much hyped DJ Koze is set to release a remix album, titled 'Reincarnations Part 2' on Pampa Records.
'Reincarnations Part 2' comes one year after the critically acclaimed 'Amygdala', with the album appearing on many publications lists for the best albums of 2013. The album also picked up the HANS Music Prize, the VUT Indie Award for "Best Album" and the ECHO Critics Award.
So with Koze's original work well and truly being coveted it seems timely for Pampa Records to have another closer look at the German's remixing prowess. The carefully selected 'Reincarnations Part 2'  includes Koze's unique interpretations of various tracks including the notable remixes of Herbert's "It's Only" which polled at number 1 on Resident Advisor's track of the year in 2013 and the underground club hit "Bad Kingdom" from Moderat. Other artists that get the Koze remix treatment are Caribou, Superflu, Ada and Who Made Who to name just a few.
'Reincarnations Part 2'  comes out through Pampa Records on the 31st of October.
Tracklist:
1. Intro
2. Super Flu – Jo Gurt (DJ Koze Remix)
3. Moderat – Bad Kingdom (DJ Koze Remix)
4. Herbert – It's Only (DJ Koze Remix)
5. Herbert – You saw it all (DJ Koze Remix)
6. Who Made Who – Keep Me In My Plane (DJ Koze's Hudson River Dub)
7. Caribou – Found Out (DJ Koze Remix)
8. Zwanie Jonson – Golden Song (DJ Koze Remix)
9. Gonzales – Knight Moves (DJ Koze Remix)
10. The Big Crunch Theorie – Distortion (DJ Koze Remix)
11. Ada – Faith (DJ Koze's Grungerwomen Remix)
12. Soap & Skin – Marche funèbre (DJ Koze Remix)
13. Apparat – Black Water (DJ Koze Remix)