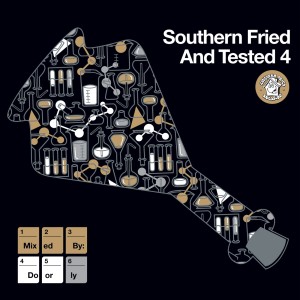 Following in the footsteps of Mighty Dub Katz, Cagedbaby and The 2 Bears, DJ and producer Doorly has mixed the fourth installment of Southern Fried & Tested, Southern Fried Records' compilation series. The mix features plenty of exclusive tracks as well as some forgotten gems and classics from the label's vast back catalogue.
Doorly has proved something of a sensation in recent years, emerging from being a resident at his own party in Huddersfield into an internationally recognised DJ who plays across the world on a nonstop basis. He has collaborated with everyone from Grandmaster Flash to Beardyman, hosts his own show on Rinse.FM, been Usher's Tour DJ and is head of his own eclectic label, Pigeonhole This. For Doorly, being part of the Southern Fried stable is a dream come true: "Anybody that knew me in my early days of DJing 14 years ago will be able to tell you that my main inspiration as a DJ was Norman Cook and I used to buy Southern Fried Records on vinyl without even needing to listen to them because I trusted them so much. Tracks like 'Mighty Dub Katz – Let The Drums Speak' and 'Markus Nikolai – Bushes'… ooooof! I am a fan boy of the label so having full access to the back catalogue and some of its rarest obscurities was an absolute holiday for me and I hope this comes across over the 2 CDs."
The mix is split into two halves – the first disc is full-on main room club fare and is packed with exclusive new tunes from DJ Touche, Doorly & Rory Lyons, Avec featuring Scissor Sisters man Jake Shears, as well as some special Doorly edits of producers like Armand van Helden and Spork. Disc two offers a more emotional and deeper take on house, garage and tech with contemporary stars like Danny Daze and Waze & Odyssey popping up next to legends like Chicken Lips and dub cuts from Ashley Beedle.
Tracklisting
CD1 – The Boom Boom Room
1. Intro
2. Space Cowboy – Cuttin 'N' Scratchin' (Doorly Choppin & Slicin Edit)
3. Jess & Crabbe – The Big Booya (Bonus Beats & Acapella)
w/ Jess & Crabbe – The Big Booya (Norman Cooks Main Pass)
4. Domino – I Will Rock You (Dub)
5. Up Yours – Tonight
6. The 2 Bears – Be Strong
7. Spork – Freek Like Me (Doorly Freak-mix)
8. Grandadbob – This Is It
9. The 2 Bears – The Lunatics (Have Taken Over The Asylum) (Stylophonic hot dub 2)
w/ The 2 Bears – The Lunatics (Have Taken Over The Asylum) (Stylophonic hot dub 1)
10. Armand Van Helden – Je T'aime (Switch Remix)
11. Doorly & Rory Lyons – Le Pump
12. Dusty Kid – The Cat (Acapella)
The Whip – Movement (The 2 Bears Acid Dub)
Scanty Sandwich – Because of You (Loop)
13. Mighty Dub Katz – Magic Carpet Ride (Loop)
w/ Mighty Dub Katz – Magic Carpet Ride (Claude Von Stroke Piano Remix)
14. Armand Van Helden feat. Christian Rich – Ski Hard (Doorly & Rory Lyons Ski-Mix)
15. Doorly feat. Roland Clark – Something To Say
16. DJ Touche – The Paddle (Banana Seat Remix)
17. Doorly – Don't Worry About It
18. The 2 Bears – Work It Out (DJ Sneak Remix)
19. Eats Everything – Hevvie
20. Armand Van Helden – Playmate (Jesse Rose Remix)
21. Crookers feat. Kardinal Offishall & Carla Marie – Put Your Hands On Me (Sticky K Remix)
22. The 2 Bears – The Lunatics (Have Taken Over The Asylum) (TEED Remix)
23. Avec (feat. Jake Shears) – Disappearer
CD2 – Sunset Terrace
1. Magik Johnson – Disco Mustaccio (Supra 1 Remix)
2. A/Jus/Ted – Stay Up Here (The Rhythm Odyssey Mixture)
3. Armand Van Helden – Into Your Eyes (The Droyds Dub)
4. Didier Morris – That Disco Swinger
w/ Percy Filth – Show Me Your Monkey (Acapella)
5. The Shoes – Time To Dance (Rocky Piano Mix)
6. Luca C & Brigante feat. Ali Love – Different Morals (Danny Daze Remix)
7. Knight & Dahe – It's Coming
8. Justin Jay – Everything
9. Chicken Lips – All That You Do
10. Cagedbaby – Disco Biscuit (Ashley Beedle Heavy Disco Dub)
11. Mighty Dub Katz – Guaguanco
12. Chicken Lips – D.R.O.M.P (Special 12" mix)
13. Frogs In Socks – Jetskis
14. Waze & Odyssey – 2 Cool 2 Clap
15. Didier Morris – No Baby Momma Drama
16. Frogs In Socks – All This Madness