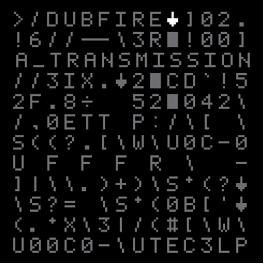 Dubfire returns to his label SCI+TEC with a smashing double mix CD – A Transmission.
The mix was originally aired as an Essential Mix on BBC Radio 1 in the end of May of 2012 but due to legal complications it needed some time and a slight transformation in the tracklisting to make its way as a physical product on the market.
The mix is a perfect example of Dubfire's meticulous music taste, which takes you on a journey through electronic music's bounty. Several unreleased tracks from SCI+TEC's catalogue have made it also to the mix and thus, are giving the fans a preview to the label's plans for 2013.
Tracklisting

CD1
01. We Long To Move The Stars To Pity
02. 3AM
03. Dude Cruise
04. Ice VII
05. Amigdala
06. Gaz 13 feat. Etiku Dancer
07. Who Dares To Believe In Me? (Mind Readers Mix)
08. If You Really Love Someone (The MURK Groove)
09. Jack the Bass (Snuff Crew Re-Interpretation)
10. Let There Be House
11. City Club
12. Foul Beats
13. Patterns of Behaviour
CD2
01. Patterns of Behaviour
02. Rollies
03. Love Bug
04. What's Poppin?
05. Wind
06. Give It All
07. Don't Move
08. Alba
09. Tuco
10. Keep Grooving
11. Black Hole
12. $46 Per Night
13. Pieces Of You
14. OCTVS
15. Matthew and Toby (Four Tet Remix)
Release Date: 25th January 2013