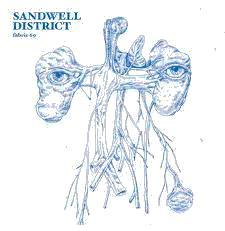 In 2002 Sandwell District commenced operations. Over the course of ten active years, they were responsible for disarming and destabilizing the structures that gagged free-form expression, drawing upon tenets of DIY-post-punk culture to disrupt accepted ideas of exactly what it meant to be an artist, label, DJ or producer. During this time, the collective's core members, Regis and Function (along with label partner, Silent Servant), played a key role in broadening the link between early electronic, post-punk, and noise; an influence which continues to resonate in the burgeoning, and shape-shifting, modern-day techno scene.
Both Function (Dave Sumner) and Regis' (Karl O'Connor) investment in techno stretches back more than 20 years. Alongside fellow art terrorist Peter Sutton (Female), Regis has spearheaded the cult label Downwards since 1993 and has released an impenetrably deep discography dating back just as far.
With this mix, another genuine artefact has been added to the Sandwell legacy, a document of their skewed presence and existence, a treasure guaranteeing the kind of quality that electronic music compilations rarely achieve.
In 1 hour 15 minutes, the pairing of Regis and Function succeed in presenting and executing some of the most potent flourishes in the Sandwell catalogue, distilling them into a coherent body of work that masterfully defines the current techno zeitgeist. Few contemporary producers have bettered the merciless techno blueprint laid down by this collective, and few ever will.
TRACKLISTING
01. Silent Servant – A Path Eternal [Hospital Productions] 02. Function – Voiceprint (Loop/Edit) [Ostgut Ton] 03. VCMG – Spock (Regis Remix) (Loop/Edit) [Mute] 04. Boyd Rice / Frank Tovey – Extraction 7 [Mute] 05. Raime – Exist In The Repeat Of Practice [Blackest Ever Black] 06. Ike Yard – Loss (Regis Version) [Blackest Ever Black / Desire] 07. Vatican Shadow – Church Of All Images (Regis Version) [Blackest Ever Black] 08. Fiedel – Andreas (Bonus Beats) [Fiedelone] 09. Cub – CU2 (UST Funk Mix) [Cub] 10. Mary Velo – Detune [Frozen Border] 11. JPLS – Basis [Minus] 12. Rrose – Wedge [Eaux] 13. Ø – Syväys [Sähkö] 14. Rrose – Wedge [Eaux] 15. Function – Modifier [Ostgut Ton] 16. Carl Craig – Darkness [Planet E] 17. Markus Suckut – Hunt [Figure SPC] 18. Samuel Kerridge – Waiting For Love Part 1 [Downwards] 19. Untold – Motion The Dance [Hemlock] 20. Surgeon – As You Breathe Here Now [Semantica] 21. Mark Ernestus – Mark Ernestus Meets BBC [Honest Jon's] 22. Plastikman – Plasticine [Plus 8] 23. Trevino – Uptight [Klockworks] 24. VCMG – Spock (Regis Remix) [Mute] 25. Planetary Assault Systems – Flat Tire [Mote-Evolver] 26. Factory Floor – 16-2-16-9-20-1-14-9-7 [Blast First Petite] 27. James Ruskin – Into A Circle [Jealous God Music] 28. SS/S – Sicario de Dios: Siglo 2 [Jealous God Music] 29. Laurent Garnier – At Night [F Communications] 30. Function – Voiceprint (Reprise) [Ostgut Ton]
Release Date: 3rd May 2013