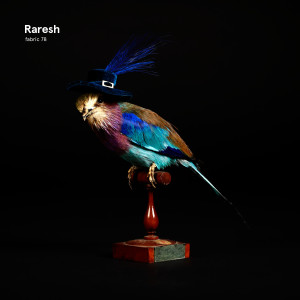 Romanian producer and DJ, Raresh has curated the latest fabric compilation. Selecting an array of textural atmospheres, intricate percussion lines and penetrating low-end tones, the Ricardo Villalobos-endorsed artist has stayed true to his sound; he's offered up a mixture of gritty, deep-house numbers, moving into more techno-sounding tracks, with each track placed with care on the album.
Raresh's career got under way in 2003 when he moved to Mucharest, the nightlife capital of Romania. It was here that he set himself apart from other Romanian up-and-comers, eventually landing him a summer residency for all of Sunrise events in the Black Sea Coast. Warming up for big guns such as Richie Hawtin, Sven Väth, Magda, Steve Bug, Josh Wink, Pascal FEOS, Troy Pierce, Marc Houle, Pier Bucci and Tobi Neumann, Raresh soon found his way onto the international playing field. Most recently he has released on Sven Väth's Cocoon Records as well as his own label [a:rpia:r], which he founded with fellow Romanians Rhadoo and Petre Inspirescu.
In the latest fabric compilation, Raresh has selected a vast range of artists across the electronic spectrum, dropping names of heavy hitters as well as those unsung heroes of the underground. Starting off with Renato Figoli's 'Super Lemon Vapor' he moves into a Murdoc remix of Hakim Murphy's 'Vatitio'. Serving up tracks from the likes of Amir Alexander to Vlad Caia and Cristi Cons, Raresh has treated us to an eclectic mix of electro resulting in the smooth, intricate sounds of fabric 78.
Listen to the sampler of the album below.
Tracklisting
01. Renato Figoli – Super Lemon Vapor
02. Dubtil – Isitor
03. Papa Sang Bass – Barb Coating Sonnet (Sonja Moonear's Sony In The Sky Remix)
04. Emi Nescu – Sirius
05. Amir Alexander – Bittersweet Memories
06. Dilated Pupils – Lost Evidence
07. Nu Zau – Bioco23
08. Hakim Murphy – Vatitio (Murdoc Remix)
09. Vlad Caia – Codex Voluspa
10. Mandar – Naughty Mandar
11. S.A.M. – Third Track
12. Cristi Cons – Anatrack
13. Oshana – I See Through You
14. Topper – Abuelito
15. Andy Kolwes – Emozionn
16. VincentIulian – Nemeta (Adsum Remix)
17. Daze Maxim – Beginning An Ending (Baby Ford Remix)