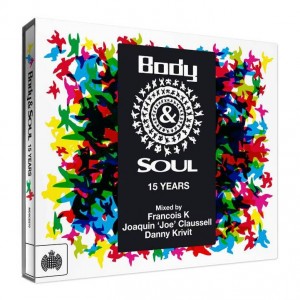 Body & Soul 15 Years celebrates the NYC party that is Francois K,Joaquin 'Joe' Claussell and Danny Krivit.
Body & Soul was born out of wanting to do something different from the clubs that were being filled in Manhattan, NYC every week. British promoter John Davis approached Francois about doing a party modelled on the London afterhours style, starting Sunday morning when the other clubs had shut. The party was to be in a warehouse in a corner of lower Manhattan that still, in those days, hadn't been developed. Club Vinyl as it was known would become an integral part of Body & Soul.
New York City is no stranger to underground dance parties overseen by DJs with priestly powers of musical beneficence.  Dating at least back to David Mancuso's Loft of the early '70s, and certainly including places like Nicky Siano's Gallery and the vaunted land of the Paradise Garage with head wizard Larry Levan, there is a real tradition of dark, off-the-beaten-path places where music and personal expression through dance reign supreme.  Places where "you felt special for being part of it, yet at home enough to truly relax and let go on the dance floor, together."  This last description comes from a manifesto published to announce the birth of a party that would become a part of that revered lineage, Body & Soul.
From the very beginning Francois insisted on musical freedom, so not where the same house beat would thud for hours on end which was typical of New York back then. Francois wanted to be able to move into different moods without pressure from management. Francois' first partner behind the decks was Danny Krivit someone he'd known for many years whom himself was a veteran downtown DJ.
Word began to spread about the party where the people were laid back and chilled and you didn't have to worry about anything. The party steadily grew through the rest of the year, gradually drifting away from early morning and the bedraggled castaways of last night's revelry to an afternoon start that attracted a home-grown family of music lovers who were passionate about dancing and adventurous enough to enjoy the less than conventional selections. François might throw in a Drum & Bass tune, while Danny wasn't averse to a little Hip Hop.  Joe even played Van Halen at one point.
By 1997 it was clear that there was something special going on. People had to be turned away at the doors, and Danny remembers,"very quickly I began to see, in record stores, sections of 'Body & Music'.
Body & Soul became a weekly institution, and environment where people from different walks of life could let their guard down and find inspiration and friendship through music. Sadly by 2002 lower Manhattan had changed dramatically and Vinyl was closing. Body & Soul had a fantastic six years there. After this time the trio took a short break and then focussed on playing overseas and doing special events in New York. Since then Body & Soul has brought the house party to Europe and Asia always with the same down to earth commitment and musical freedom.
Tracklist
Disc: 1
1.Whitney Houston – Love Will Save The Day (The Underground Edit)
2.Shaun Escoffery – Days Like This (Spinna & Ticklah Club Mix)
3.Soft House Company – A Little Piano/What U Need
4.Bang The Party – Bang Bang You're Mine
5.Tribal House – Motherland
6.Hugh Masekela – Don't Go Lose It Baby (12″ Version)
7.Detroit Experiment – Think Twice (Henrik Schwarz Remix)
8.K -Scope
9.Earth People – Dance (Beats Mix)
10.The Freddy Turner Project Feat. The Three Kings – Spread Love
11.Voyage – Souvenirs
12.DJ Duke – Tribal Journey (The Sun Mix)
13.Vince Watson – Mystical Rhythm
14.Bolla Feat. Jephté Guillaume – Afrikan Basement (Bonus Drum Mix)
Disc: 2
1.Convertion – Let's Do It
2.Esther Williams – I'll Be Your Pleasure (Larry Levan Remix)
3.Black Rascals – Keeping My Mind (Vocal Mix)/Keeping My Mind (Dub Mix)
4.Round One – I'm Your Brother
5.Gerideau – Take A Stand For Love
6.Coldcut Feat. Lisa Stansfield – People Hold On (New Jersey Jazz Mix)
7.808 State – Pacific 212 (Justin Strauss Remix)
8.Exodus – Together Forever (Dub Mix)
9.Sounds Of Blackness – The Pressure Pt. 1 (Classic 12″ Mix With Vocal Intro)
10.Jeanette Thomas – Shake Your Body (House Shaker Version)
11.Instant House – Awade (Joe's Jungle Sounds Dub)
12.James Brown With The Original J.B.s – Give It Up Or Turnit A Loose (1970 Album Version (Undubbed Unedited Mix)
13.Keedz – Stand On The Word (Original Version 1981)
Release Date: 28th October, 2011