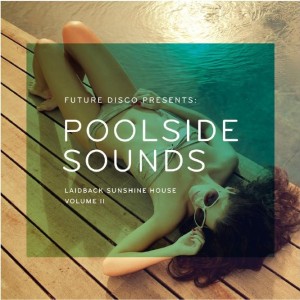 After the success of last year's Poolside sounds, Future Disco are back with the second instalment of their Poolside series on Need Want Recordings.
In this series Future Disco highlights its future stars and pinnacle sounds and this latest edition has been compiled, edited and mixed by label founder, Sean Brosnan. Artists such as Soul Clap's newest signing Nightplane, German based trio Chasing Kurt, new Scottish talent DFRNT and James Welsh, J.Wiltshire, Last Magpie sit alongside inaugural figures such as Axel Bowman and many more.
Future Disco are known for giving support to artists like Crazy P, Soul Clap, Tensnake and The Revenge in their earlier years, and their Future Disco series is a past recipient of the  iTunes electronic album of the year award. This release is available as mixed and unmixed CD that's perfect for both DJ's and casual listeners alike.

TRACKLISITING
CD1 MIXED
1. DFNRT – NOBODY STOP ME (FEAT. CAYE SLAYMAKER)
2. KIWI – MAYFLY FEAT AMY SKIPPINGS
3. JAMES WELSH – THE WAY
4. J.WILTSHIRE – TAKE IT OFF MY MIND
5. LAST MAGPIE – WHO KNOWS WHERE LOVE GOES
6. BONAR BRADBERRY – 3TWO5
7. MAN TEAR – OUTSIDE AMORE
8. SOFTWAR – THIS TIME AROUND
9. AXEL BOMAN – CUBIC MOUTH
10. NIGHTPLANE – GATES OF DAWN
11. CLEOV – CRUSH ON YOU (CHASING KURT REMIX)
12. LOCKED GROOVE – DO IT ANYWAY
13. PAOLO ROCCO – MOVE BODY, MOVE FORWARD
14. ROMANTHONY – BRING YOU UP (PBR STREETGANG REMIX)
15. ANTONIO OLIVIERI – TINY NUT
16. ARTFUL & RIDNEY – MISSING YOU FEAT TERRI WALKER (FUTURE DISCO ODYSSEY EDIT)
17. PANAMA – IT'S NOT OVER (DAVE DK DUB)
CD2 UNMIXED
1. DFNRT – NOBODY STOP ME (FEAT. CAYE SLAYMAKER)
2. JAMES WELSH – THE WAY
3. J.WILTSHIRE – TAKE IT OFF MY MIND
4. LAST MAGPIE –(WHO KNOWS) WHERE LOVE GOES
5. BONAR BRADBERRY – 3TWO5
6. SOFTWAR – THIS TIME AROUND
7. AXEL BOMAN – CUBIC MOUTH
8. LOCKED GROOVE – DO IT ANYWAY
9. PAOLO ROCCO – MOVE BODY, MOVE FORWARD
10. ROMANTHONY – BRING YOU UP (PBR STREETGANG REMIX)