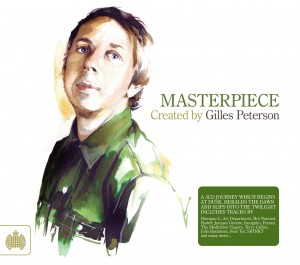 Masterpiece brings you legends from the world of music that have one unique story to tell through their own influences and inspirations. A collection like no other that really holds its creator in serious high regard. Masterpiece welcomes none other than Gilles Peterson.
After an 8-year residency at Kiss FM, Gilles took his Worldwide radio show to BBC Radio 1 in 1998, where he's enjoyed 12 years at the station (and counting) broadcasting the Worldwide sound to receptive ears. Gilles now records a weekly Worldwide programme that is syndicated to 12 stations across the globe including France, Austria, Japan's no 1 commercial station J-Wave.
It doesn't stop there however; the "Worldwide" tag extends to two annual musical extravaganzas – the Worldwide Festival and the Worldwide Awards. The Worldwide festival recently celebrated its fifth birthday, taking place in the South of France in July. The festival showcases Gilles' favourite artists, bands and DJ's across a 4 day party in the Mediterranean sun. The awards are a more intimate affair celebrating the finest emerging talent championed by Gilles.
Amongst all of this Gilles runs his own label Brownswood Recordings. Set up in 1995 as an outlet for his favourite new discoveries. The label has seen him sign new talent such as Ben Westbeech, Jose James and Owiny Sigoma Band.
Following in the footsteps of Francois K, Jazzie B (Soul II Soul) and Fabio & Grooverider, Gilles brings a Masterpiece selection containing a typically wide ranging, devious selection that references twists and turns of Petersons career as a ground breaking, outer-national club and radio DJ. Its journey which begins at Dusk, heralds the Dawn and slips to the Twilight.
Gilles' passion and enthusiasm is unfailing and deeply infectious and this is why Ministry of Sound is very proud to have him deliver a Masterpiece.
Release Date: 2 December 2011
Tracklist
CD1
01. Finn Peters – Purple
02. Mr Beatnick – Synthetes
03. Scuba – So You Think You're Special (Joe mix)
04. Mic Newman – The Fidelity
05. Roman Rauch – Can't Get Enough (SoulPhiction mix)
06. Bassfort – Moon Shadow
07. Prommer & Barck – Sleeping Beauty
08. Mr Raoul K – The African Government
09. Bjorn Torske – Langt fra Afrika (Todd Terje mix)
10. Mo Kolours – Biddies
11. King Coya – Villa Donde
12. SBTRKT feat. Sampha – Living Like We Do
13. Koreless – MTI
14. Kode9 & The Spaceape feat. Cha Cha – Love Is the Drug
15. Jacques Greene – Another Girl
16. Bugge Wesseltoft & Henrik Schwarz – Kammermusik
CD2
01. Wagon Christ – Mr Mukatsuku
02. Peaking Lights – Hey Sparrow
03. Locussolus – Throwdown (Vocal)
04. Arthur's Landing – Love Dancing
05. Tyrone Evans – Rise Up
06. Ish – Faster Than a Speeding Bullet
07. Gatto Fritto – Hex
08. Discodeine – Falkenberg
09. Owiny Sigoma Band – Wires (Theo Parrish mix)
10. Dinosaur L – Go Bang!
11. Virgo Four – It's a Crime (Caribou mix)
12. Phuture – Acid Tracks
13. Art Department feat. Seth Troxler – Living the Life
14. Hot Natured feat. Ali Love – Forward Motion
15. Julio Bashmore – Batty Knee Dance
16. Four Tet – Pinnacles
CD3
01. Incognito – Summers Ended
02. Cameo – The Sound Table
03. Roy Ayers – Evolution
04. Light Of The World – Time
05. Freeez – Southern Freeez
06. Tom Browne – Come for the Ride
07. Soul II Soul – Fairplay
08. Leena Conquest – Boundaries
09. Charlie Winston – In Your Hands
10. NYCC – I'll Keep a Light in My Window
11. Gene Chandler – Does She Have a Friend (For Me?)
12. The Meditation Singers – Trouble's Brewin
13. Teena Marie – Portuguese Love
14. RAMP – Daylight
15. Young Disciples – As We Come (To Be)
16. Terry Callier – Dancing Girl
17. The Royal Jazz Trio – Various Kicks Grand Battement Walks