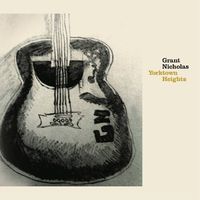 Grant Nicholas songwriter and front man of the phenomenally successful UK rock band Feeder releases his first solo album, 'Yorktown Heights' this winter via the Popping Candy label.
Nicholas' career with Feeder thus far has spanned 20 years and 11 albums, with 8 gold and platinum albums and over 3 million album sales. Now with his first solo release Nicholas' looks to the future of his music and divulges that "..it was time to bare my soul and let people hear my songs in a more acoustic way. I grew up listening to a lot of acoustic based artists from the 60's and 70's and I really wanted to make an album that touched on what I loved about the honesty and warmth of those records."
'Yorktown Heights' is out August 15th.
Tracklist:
1. Soul Mates
2. Hitori
3. Tall Trees
4. Robots
5. Vampires
6. Good Fortune Lies Ahead
7. Joan of Arc
8. Hope
9. Isolation
10.Broken Resolutions
11.Time Stood Still
12. Father to Son
13.Counting Steps