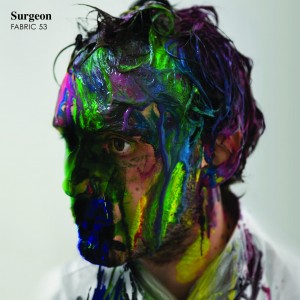 Rummaging through the 15 year discography of the unrelenting, steadfast techno legend Surgeon – and tracing the vast odyssey of his creative exploration – breeds a rare feeling of discovery. And genuine artistry. Surgeon (a.k.a. Anthony Child) stands tall as a true individual in the leagues of electronic music history, with seminal, landmark releases bounded only by raw passion and a transcendentally deep imagination.
Growing up in Kislingbury, a small village outside Northampton, Surgeon's first forays into music began with lessons in classical instrumentation. But it was his tape deck experiments, from a very young age, that brought to light his producer mentality: bending sounds and re-shaping ideas whilst creating dense, immersive soundworlds. Becoming heavily influenced by a wide range of sounds and sonic textures – from those of experimental musicians Brian Eno and Isao Tomita to the impassioned and raw industrial flavours of Coil and Suicide,Surgeon relocated to Birmingham to persue an education in sound engineering. It was here that he started a club night, House of God, with a close knit circle of like minded friends in 1993; even now, 17 years later, it still runs strong.
After his first release, the now legendary'Surgeon EP', and his other work on Downwards(which somehow landed in the influential record crates of Dave Clarke and Jeff Mills – itself no mean feat considering this was pre-internet file sharing), his connection with fellow Downwards artist Regis (aka Karl O'Konnor) produced their vibrant, industrial-flavoured work as the British Murder Boys.
Flicking easily from the heavy, sheets of sound produced by his old school contemporaries,Surgeon fuses the old with the new on fabric 53, creating connections between the oppressing and the minimal that have never been as simply decoded. Honing in on the idea that a lot of 'modern' bass music harks back to rave and constantly re-feeds on its memory for inspiration, he includes music from a veritable liege of young producers. Instra:mental'srolling 'Forbidden' is used early on and adds the kind of quickened bass texture that has been carefully incubated over their workings as they slow down from 175bpm drum & bass, whilst Starkey's 'Spacecraft' is used brilliantly to juxtapose the rolling pressure of what comes before it, eliminating the 4×4 pulse and adding thicker, more leading bass tones.
"It really is a current snapshot, it's changed even now. When I did the mix, I opened my current set and deleted a few things and this is what I was left with. This is the music that I am enjoying and I feel it represents me; and on the other side, there were some newer or lesser known artists that I really wanted to represent. It's about making people aware of different genres, to show the likeness. It's taking T-Polar, Subeena, Ital Tek, Ancient Methods – and putting that next to Orphx, DJ Overdose and Russ Gabriel, and mixing them all up together. It's kind of strange looking at the tracklist, but for me it's very natural the way these things fit together. And really, to me, this is all techno. That's the way I think of it; I don't subdivide genres, the beats are just slightly different places in the bar. They all have different feels and textures, but I don't differentiate, I just like all this music so I want to mix it together." – Surgeon
Tracklisting
CD1
?
01 Location recording from Kuramae Subway Station, Tokyo, Japan
02 Scuba – Glance (Hotflush)
03 Surgeon – Bad Hands (Drums Only) (Dynamic Tension)
04 Marco Bernardi – Giro (Exium Remix) (Dirty Planet)
05 Instra:mental – Forbidden (Apple Pips)
06 Forward Strategy Group – Applied Generics A (Forward Strategy Group)
07 Reeko – Agile Movement (Theory)
08 Surgeon – Bad Hands Part 2 (Drums Only) (Dynamic Tension)
09 Robert Hood – Superman (M-Plant)
10 Planetary Assault Systems – X Speaks To X (Al Tourettes & Appleblim Remix) (Ostgut Ton)
11 Ritzi Lee – Black Star Ritual (Ben Sims Remix) (Underground Liberation)
12 T-Polar – Crab People (Digital Distortions)
13 Ital Tek – Spectrum Falls (Atom River)
14 Surgeon – Klonk Part 1 (Drums Only) (Dynamic Tension)
15 Subeena – Picture (Opit)
16 Fran Hartnett – It Was Written In Vapour (unreleased)
17 Mark Broom & James Ruskin – Hostage (Blueprint)
18 Stephen Brown – Stress Free (Music Man)
19 Ancient Methods – AM04B1 (Ancient Methods)
20 Surgeon – Compliance Momentum (Dynamic Tension)
21 Greena – Tenzado (Apple Pips)
22 Starkey – Spacecraft (Planet Mu)
23 Starkey feat. Anneka – Stars (Slugabed Did A Remix) (Planet Mu)
24 Cari Lekebusch – Spindizzy (Luke Slater's L.B. Dub Corp Remix) (Mote-Evolver)
25 Surgeon – The Crawling Frog Is Torn and Smiles (Dynamic Tension)
26 Orphx – Threshold (Substance Remix) (Sonic Groove)
27 Gatekeeper – Blip (If Symptoms Persist)
28 Mark Broom & James Ruskin – No Time Soon (Blueprint)
29 Russ Gabriel – El Juan (We Play House)
30 DJ Overdose – What (Lunar Disko Records) ?