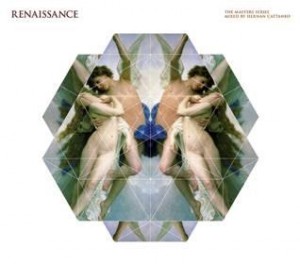 Renaissance has had a bigger part than most in the advancement of the mix compilation. Back when they began in 1992 'commercially available' mixes mainly consisted of poorly recorded tapes sold from behind the counter at record shops, but things soon changed. In 1994 they released the first ever 'The Mix Collection' (selected and mixed by Sasha and John Digweed), pioneering the 'mix CD' in the process.
Now as they celebrate their twentieth year of activity they end 2012 on a bang with a flurry of compilations. The first is the seventh delivered by South American legend Hernan Cattaneo, an artist who has become synonymous with the meticulous manifesto of melody that defines Renaissance's. Constantly pushing forward, Hernan routinely delivers mesmerizingly mixed collections that soar throughout the full canon of house and techno, dreamily imagined collages of sound.
The first disc shuffles between deep house and off kilter electronic grooves, boasting productions from the likes of Guy J, Ripperton, Guy Gerber and Martin Garcia. Highlights include the subtle piano led electronics of diskJokke's stunning re-interpretation of Comphunoic's 'Sequoia' or the masterful 'Ventura' by Hal Incadenza; an alias for exciting Spanish DJ Henry Saiz. The latter has been edited by Hernan specifically for the collection and is the final one of eight personal remixes/productions that features on the mix.
The second selection sees Hernan notching up the energy levels and heading into more driving territory. Guy Gerber's haunting take on the Cevin Fisher and Layo & Bushwacka collaboration 'Dancing in the Dark' is an early pace-setter, whilst the stirring melodies of the Microtrauma remix of Umit Han 'An Einem Traurigen Morgen' also grab your attention. Again Hernan's productions and remixes feature heavily with four on offer here before the album draws to a stunning close, the soaring synths and euphoric rush of Agoria creating a jaw-dropping finale.
The overall result is classic Hernan and classic Renaissance; two sumptuously mixed offerings, which distil both the DJ and the brand in immaculate fashion. Better yet it works as a pointer to the global sounds that are currently dominating dancefloors, a picture perfect barometer of the electronic pulse that is making feet move the world over.
Tracklisting
CD1
1. Guy J – Lost & Found (Found A Corner Of Silence Mix) M/W) Peter Keen – Musicians (Accapella)
2. Martin Garcia – Last Beautiful Flower
3. Ripperton – Des Promesses De Couleurs
4. Timewriter – Motherland (Hernan Cattaneo & Soundexile Edit)
5. Pional – In Another Room (Reduxed Version)
6. Compuphonic – Sequoia (diskJokke Remix)
7. Hernan Cattaneo & John Tonks – Sendai
8. Lonya – De High (Audio Junkies Romantic Re-Edit)
9. Nobuyuki Tokunaga – Solid feat. Mia Tuttavilla (Conure Remix)
10. Hernan Cattaneo & Soundexile – Atrial Rhythms
11. Microtrauma – Crickets
12. Nick Varon – Shibuya (Hernan Cattaneo & Soundexile remix)
13. Hernan Cattaneo & Soundexile – Japanese Snowbell (Day Mix)
14. Mono Electric Orchestra – Indifference (Ambient Mix / Hernan Cattaneo & Soundexile Edit)
15. Guy Gerber – The Mirror Game (Snake Pit Dub / Hernan Cattaneo & Soundexile Edit)
16. Mercurio – California
17. Hal Incadenza – Ventura (Masters Series Edit)
CD2
1. Underset ft. Lifa – Moon Rover
2. Slok feat. My Favorite Robot – Feel Alive (Slok's Original Vocal Mix)
3. Layo & Bushwacka! Feat. Cevin Fisher – Dancing In The Dark featuring (Guy Gerber & Tennis Remix)
4. Hernan Cattaneo & Soundexile – Infoxication
5. Rodskeez – Left in the Dark
6. Ernest Luminor – Jaga (Pako & Frederik Remix)
7. Hernan Cattaneo & Soundexile – Citycism
8. Umit Han – An Einem Traurigen Morgen (Microtrauma Remix)
9. Hernan Cattaneo & Soundexile – Altair
10. Guy Mantzur & Stehpan Bazbaz – All Over Music
11. Kieran J – Symbiosis (Santiago Garcia Remix)
12. Hernan Cattaneo & Soundexile – Japanese Snowbell (Guy J Remix)
13. Fran Von Vie feat Cio May – Wake Me Up When Everything Has Changed
14. Agoria – Panta Rei (Max Cooper Remix)
Release Date: 5th October