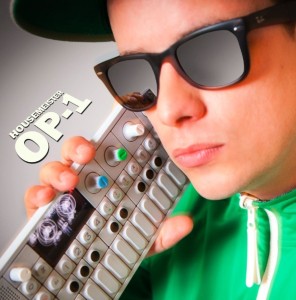 Party animal and long time Boys Noize collaborator, Housemeister, will release his 4th studio album on Boys Noise Recordings this July. 'OP-1' will be the name of the new release and it follows up 2011's 'Music is Awesome' longplayer.
Housemeister has been involved with his local German scene since the age of 17 when he started going to legendary clubs like E-Werk, Tresor, Wal-sh, and Electric Ballroom. His big break came in the early 00's when he released 4 singles/EP's on Bpitch Control which resulted in his tour schedule filling up with offers from all around Europe. In 2005 Housemeister released his 'Enlarge Your Noise' longplayer on Boys Noize Recordings which was the start of a long relationship with the label.
'OP-1' seems to be a concept album of sorts with the majority of the album written on tour with his OP-1 synthesizer. All the tracks are named after the cities in which Housemeister found himself in during this writing process. Writing a whole album with only one synth seems quite limiting, but we are told that Housemeister has made sure that "his creativity bleeps like hell".
This release continues a very busy year for Housemeister which so far have included him being drafted in to be one of the re-mixer's for Daft Punk's latest single, 'Giogio by Moroder'.
Tracklisting

01 Tokio
02 Berlin
03 Paris
04 New York
05 Shanghai
06 Mexico City
07 Manchester
08 Chicago
09 Barcelona
10 Montreal
11 London
12 Munich
13 Melbourne
14 Osaka