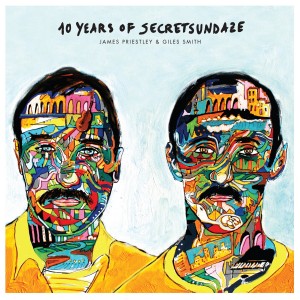 10 Years of Secretsundaze' is yet another perfect snapshot of the duo's ability to throw together undiscovered classics with the newest, freshest sounds without ever compromising to trends. With a supporting world tour heading through Berlin, Barcelona, New York, Tokyo and Ibiza to name just a few, the label primed with a whole slew of 12" releases to come and The Secret Agency going from strength to strength, 2011 is set to be yet another blow-out year for Secretsundaze's 10th birthday.
Stick around for long enough in the dance music world, and it becomes a business—whether you like it or not. James Priestley and Giles Smith have mixed feelings about the whole thing. Last year, they decided to stop selling tickets in advance of the summer season of their secretsundaze party, citing a worry that they had "lost a bit of the connection with the original spirit of the party." How do we know all this? They sent out a press release and did an interview to explain.
Fair play: If you don't say why, you get questions from all corners. But you also get the sense that Priestley and Smith simply want the music and the party to speak for itself. For over ten years, the duo have promoted deeper disco and house, the pleasure of dancing (usually outdoors) on a Sunday and the importance of mustache maintenance. Finishing off the weekend with a dance has become something of a London institution in recent years, and the duo have taken full advantage, bringing big name artists that played the night before elsewhere or—in recent years—doing exclusive bookings that veer toward the underground and underexposed.
Musically, that's exactly what you get throughout secretsundaze's latest two CD mix: They dig deep downward (Smith revels in Dubtribe's 2001 mix of "Tomorrow in Your Eyes") and sideways (Priestley warms things with Marcus Intalex's deep house left turn). They also remain completely individual: Priestley's funkier and disco side is easily apparent, while Smith once again goes deep into the bowels of house. Both are still at the top of their game, mixing upfront and old effortlessly. If you had to pick a winner, you couldn't: Each does something completely different with their disc. Priestley moving from quick tempo house to broken beats back to 4/4 again, while Smith is more interested in "keep[ing] mixes smooth and not jump[ing] around stylistically too quickly."
There was a time, believe it or not, that Giles Smith didn't have a mustache—and secretsundaze was a phenomenon that only you and your closest friends knew about. That time is over. But as 10 Years of secretsundaze proves, the impetus behind the party remains the same: Good music, mixed well. In other words, business as usual.
CD1 mixed by James Priestley
01. DJ Ageishi & Ackin' – Rain Parade (Mark E Remix)
02. Space Dimension Controller -Transatlantic Loading Bay
03. GHL – Show Me Love
04. Rootstrax – Harlequin
05. Marcus Intalex + S.T. Files – Taking Over Me
06. Franck Roger – My Name Is
07. Recloose – Ain't Changin'
08. Maddslinky – Cargo
09. Ghetto Brothers – Ghetto Disco
10. Xdistrict – Color Correction (Losoul Rmx)
11. Locussolus – Tan Sedan
12. Metope – I'm So Ready + Cpu-Circus (Ada)
13. Steffi feat. Elif Biçer – Kill Me (Crushed Soul)
14. Voyage – I Love you Dancer
CD2 mixed by Giles Smith
01. Roosevelt and Charles – Monastery
02. Specter – Make Me Feel
03. KB Project – Feel It
04. Marshall Jefferson vs. Noosa Heads – Mushrooms (Salt City Orchestra's Out There mix)
05. East West Connection featuring Maiya James – Find a Way (Dubtribe Soundsystem dub)
06. Dinky – Polvo
07. RNDM – Hideaway Lane (dub)
08. Anthony Shakir – Travellers (MRSK remix)
09. Skudge – Ontic (Rolando Understands remix)
10. Two Armadillos – Ronin
11. Steven Tang – Ominous
13. Smallpeople and Christopher Rau – Life Aquatic
14. Slam Mode – Insualte