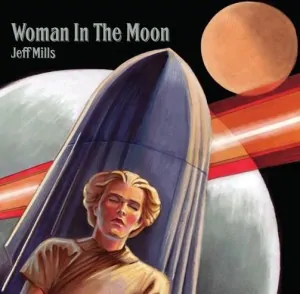 Woman In The Moon is a science fiction silent film that premiered on 15 October 1929. It is often considered to be one of the first "serious" science fiction films, written and directed by Fritz Lang, who is the one of the biggest names in German expressionist cinema, the creator of Metropolis (1927).
Detroit Techno music producer and a futurist Jeff Mills composed the new sound track for this classic film, initially for the Fritz Lang Film Retrospective event for Cinematheque Francaise in Paris in 2011.
Since then, Mills has been consistently performing the soundtrack in the form of a cine-mix.
Tracklisting:
Disc1:
1. Credits
2. The Visitors
3. Ridiculed
4. Striking Match And Idea
5. The Drive Home
6. Arriving Home/ Knocked Out
7. Thieves In The House
8. The Celebration
9. Mister Turner
10. The Presentation
11. The Launch Hour
12. Moon Rising
Disc 2:
1. Blast Off
2. The Hard Effects Of Adventure
3. The Journey Begins
4. Crossing Space
5. Deep Sleep Odyssey
6. Waking Up To A New Existence
7. A Life In Space
8. Behold, The Moon
9. No Way Back
10. Prepare For The Lunar Landing
Disc 3:
1. Crash Landing
2. Doorway To Destiny
3. The Consequences
4. The Search For Gold
5. Found By Loss And Greed
6. Tribulations Of Greed
7. Chans And Fanatics
8. Hard Facts Of Life
9. Restitution And Resolve
10. The Woman – The Moon – The End