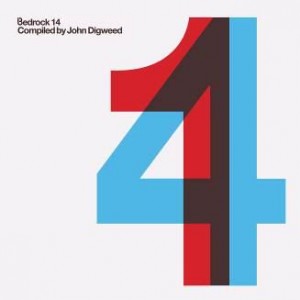 BEDROCK 14 compiled by John Digweed features 21 exclusive tracks from some of Bedrock's favourite artists and some exciting new names on the Bedrock roster, in a DJ-friendly unmixed format. 
Featuring a stunning array of exclusive killer tracks from Christian Smith, Guy J, Pig & Dan, Henry Saiz, Quivver, John Digweed & Nick Muir, Robert Babicz, Marco Bailey and more…
"I'm really happy with the 21 tracks I have selected for this latest Bedrock compilation. With a mixture of Bedrock favourites and fresh new producers this album shows that Bedrock is always committed to finding the best electronic music out there." – John Digweed
So, once again, it's hats off to Bedrock for raising the bar even higher with this exceptional compilation featuring 21 exclusive tracks from some of the world's finest artists. In this day and age to not only survive as an independent label, but also to flourish and constantly evolve, bringing forward new and exciting talent, is something that should be applauded. Anyone with even just a passing interest in quality electronic music needs to think very seriously before leaving this collection on the shelf.
Tracklisting
CD1
1. Eagles & Butterflies – Kolleckt
2. Wiretappeur – Iridescent
3. Maher Daniel & Nikko Gibler – I'll Wait For You
4. Pig&Dan – Crazy
5. Paneoh – Vetabom
6. Christian Smith – The Judgement
7. Marc Marzenit & Henry Saiz – Sirens Land
8. Quivver – Fakes and Bullshit
9. Guy J – Mish Mash
10. Marco Bailey – Whispering Leaves
CD2
1. Kurtz & Bomber – Never Sleeping
2. Jemmy – Quarry Bank – Stelios Vassiloudis Remix
3. Eagles & Butterflies – Stimmer
4. Stelios Vassiloudis – What's That?
5. Jamie Stevens – Indigo
6. John Digweed & Nick Muir – Raise – Electric Rescue Remix
7. Solee – Resistance
8. Maxime Dangles – Unsteady Curve
9. Robert Babicz – Eastside
10. Electric Rescue – Stucked Ship
11. John Digweed & Nick Muir – Trezzz Intro
Release Date: 12th October