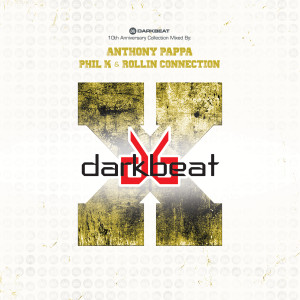 Darkbeat has been at the forefront of the Australian underground dance scene since the dawn of the millennium, and this year they toast a decade of hosting quality underground events. To celebrate this achievement, Darkbeat has released a 3CD collection on the recently launched Darkbeat Recordings; a release that is mixed by Darkbeat residents and regular guests, Anthony Pappa, Phil K (both compilers of Balance Series compilations) and Darkbeat founder Rollin Connection (Daniel Banko). They have delivered a stunning release that features the full spectrum of deep house, techno, progressive and disco inspired electronic funk. John Sharp is the head honcho of Fluidlife:only promotions and he has collaborated on numerous events with Darkbeat over the years. Let's head down to place called 'Sharpyland', with John Sharp as our tour guide and the Darkbeat CD as our soundtrack…
==================================================================
"Having worked with and for Darkbeat over the years, I was excited to hear how Darkbeat – the no.1 Consistent Australian Underground Music Event Brand – would perform as a commercially released compilation. My time working with Banko & the Darkbeat team  (joining creative forces with the Fluidlife contingent) to deliver collaborative events for highly acclaimed Renaissance and Balance Series album releases will always be remembered fondly. At the time, I remember a high intensity on many levels, but the work between us all were executed brilliantly, and as a result, we delivered superb shows. I write as I listen. This is a long one so fire up the CD and listen as you read." – John Sharp (Fluidlife)
I was not aware of the tracklisting for this release until it came down to slotting in the final pieces of this review puzzle; I ventured into this open-minded, which is the only way to approach any new situation: innocent and free from obscured influences, especially relating to labels and artists I either like or yet to like. Why have I chosen to spend the next few hours of my life to do this? Well, several reasons: interest and intrigue probably top the list, the fact that I have close connections with the Darkbeat brand professionally and personally (which includes Darkbeat fave Anthony Pappa, founder Rollin Connection / Daniel Banko and resident Phil K), and also feeling safe in the knowledge that this will be a really good musical experience for me. This is a 'review' with a personal touch. Not being one to do things in the 'correct' order – a little like the 'shuffle' function on an ipod – I start with Disc 3 mixed by Phil K…
Whilst Disc 3 is labeled as  an 'after hours' mix, this offering from Phil K conjures up a different image in my mind: 'I'm wearing a spanking Hawaiian shirt – 80's Miami style- on a multimillion dollar Monaco yacht: blowing a joint, sipping elite red wine whilst bathing in sublime ice-cream -Maggie Beer Ice-Cream (Australian gourmet ice-cream) of course- and accompanied by the most beautiful women in the world, delicately assisting me to clear the dairy destruction I've created; only using a very sensual part of their incredible female anatomy, the job gets done.'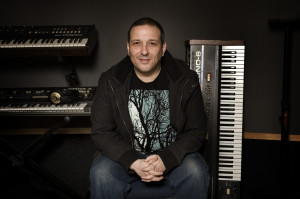 Back in the real world… Who said "white men can't dance"? This one can: Phil K has got some groove flowing right here… One hell of a groove. This downtempo, stripped back and educated style could be taken as an after-hours mix; however, with this offering Phil K defies any musical bracket and does so with precise technical skill and incredible track selection: Rayko 'Slowtrack' & Sir Mike Callander's 'Still Lost' (Darius Bassiray & Paul Beynon's Slo Mochi Remix) being particular favourites of mine. Deep into the mix, my mind casts back to 2005 with my arrival in Australia and my hopes of meeting Phil K (along with Danni Minogue – purely from a schoolboy fantasy perspective) so I could pick his mind. Intrigued by his musical performance, style and versatility, I had to find out what/where/who inspires him. One day I was having a chat to someone in a mutual friends' refreshment establishment and imagine my surprise when I found out I was speaking to Phil K! I soiled myself in absolute shock that I was speaking to one of my greatest inspirations. His music came into my life at a very challenging period and provoked a change: a change I chose to make, and I truly believe Phil's music played an integral part in comforting that change. I could say his music is responsible for me being present this very day; furthermore his music instilled a hope and passion in me to keep on chasing the dream of one day calling 'Music' my 'Work'.
This CD reflects a character with divine, unconditional passion for music in its entirety. His presence and confidence shines through with this mix and one that I'll be playing again and again, so I can revive my vivid imagination back to that yacht in Monaco (I fully believe that this Monaco scenario will one day become a real experience). Every period in my life that has involved Phil's music has turned out to be some of the most pivotal and 'real' moments of my life
I wanted to listen to Rollin Connection next but held back as I asked myself: "Why?" Instead I decided to listen to Pappa's disc first, my thought process being that I really didn't know what to expect from Rollin Connection (the anticipation twisting my twisted mind further) so I decided to listen to his mix last. I knew what to expect with Pappa though – even without knowing the track-list I was excited to immerse myself in some vintage Anthony Pappa mixing. I was totally wrong with my expectations: expectations can be exceeded or it can lead to the devilish human trait of 'high expectations leading to disappointment'; Pappa happily achieves the former.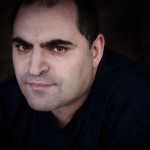 I was taught something by my Grandfather that I'll never forget: "Under Promise & Over Deliver." With this mix Pappa Over Promised (my high expectations from his past work) and Over Delivered. It took me a while to get into the mix, and I think the reason being is that all I could see -or wanted to see- in my mind was Lord Pappa in front of 1000's of die-hard fans, in perfect synchronicity with their dancing; moving to the driving, forceful, incredible beats he masters so well – always delivering way more than anyone else who tries to emulate his unique style. 18 or so minutes in, Afrilounge 'Gold'  fires up. Bang! I hear Pappa, I see his cheeky grin; feel his infectious energy behind the club altar after blessing the crowd with his underground-infused holy water. Pope Pappa the 1st is at the Vatican delivering a speech through the united medium of music; fueling my highly unusual need to clean the kitchen from top to bottom.
My mind flashes to a rider he once presented to me which in turn provoked a unique and stupid sounding laugh-out-loud (can you imagine the laughing sound of a successfully crossbred donkey & hyena? Yes, that's the one!). The only other time I'd produced such a reverberating sound was when I read the email containing his 'Rider' whilst I was in a Crazy John's store (an Australian mobile phone retailer) trying to negotiate a deal for a washing machine (I truly believed at the time this phone retailer would have contacts in the field of white goods). Much to the frustration of the poor salesman and his superior, I was eventually ejected and reunited with my fellow journeymen who were wailing on the ground -and in hysterics- just outside the Crazy John's store. Yes, I/we were in Sharpyland that morning: imagine a never-ending moonscape of social mind-bending and un/acceptable behaviour, political incorrectness, windups and funny situations, all in the name of "trying to understand people and myself much better". Never. Ever. Ending.
How could I ever forget this rider? Wow. Some of the more memorable requests on the rider included:
2 BACK UP DJ'S THAT LOOK EXACTLY LIKE FUNKY COL (THEY CANNOT BE LATE)*
1 MCDONALD'S UNIFORM AND HAT
1 SOUTHERN ATLANTIC SPERM WHALE (FOUND OFF PORT MORESBY), DICED INTO SUSHI ROLLS, SLIGHTLY SEARED AND LEFT IN GEORGE FOREMAN GRILL FOR 5 MINS"
* Funky Col is an Melbourne stalwart DJ from way back and a dear friend of Anthony Pappa's.
If this man can be this creative with his rider then I was under no illusion he was going to tear the gig -that I would book him for- a new one. Anthony Pappa, Phil K, Kasey Taylor, Rollin Connection, Text Book Music, Lister Cooray & Jon Beta all featured on what I felt was one of my most exciting Australian Fluidlife lineups for our 'Lunar' residency at OneSixOne in Melbourne. To have such a rich pedigree of artists together on the same bill was an amazing feeling for me.
But I digress… Back to Pappa's mix!
As his mix progresses, I hear a new side to Pappa: his notorious teasing style is still present, but I have a feeling that his recent life decisions and experiences are reflected throughout this mix (more so than any of his past mixes). Life is a journey and not a race, and whether Pappa is consciously doing it or not, I believe he is channeling the status quo of his life with this compilation. His selection of Ame's remix of Ry & Frank Wiedemann 'Howling' is a very pleasant and integral moment for me, and Pappa's use of Solomun's 'He is Watching You', again, evokes a surprise in me that is a very welcome emotion.
Anthony Pappa. Unique. Unrivalled. United…
Where would I most want to be if I was with Pappa for a night out? North Korea. With courtesy to the safety of the general public of Planet Earth, this would be the safest place for us both. Not even their Nuclear weaponry could come close to stopping the fun. I have no doubt during our North Korean adventure, Pappa would convert the North Korean dictatorship into a music festival called Pappafields (God help Kim Jong-un with Pappa's rider for this gig), and everyone would be making friends over some nuclear fireworks (I'd better be careful with what I wish for – to date most of my music related wishes have come true).
So, finally I give into my analytical mind (with no answers to the questions I was twisting myself with) and enter the Rollin Connection audio display with a clear and open mind. Why was I thinking this way? Well, I've never heard a recorded mix of his before, but I have had the pleasure of listening to him live many a time. I do regard him as a superior DJ in a game where it is getting more and more difficult to define what a 'DJ' is. Do any of us care about the definition of a DJ these days as long as the output is quality? Also, being the man behind Darkbeat, I expect him to really think about what he wants to portray in this mix. Not influenced by categorising RC to a particular genre or sound (I deter all reference to genre classification), I was gently led into what I felt was going to be a whole new story.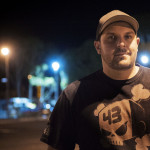 His opening track choice –'Walking Through The Hills' from Daniel Sanchez– sets the scene for what I believe is Rollin Connection AKA Daniel Banko's true self. I find Banko at his most visible and communicative about whom he really is whilst he's playing music. That might just be my perception, or maybe that really is how he communicates best: through music. If I'm right though, what an amazing way to communicate your 'self' through music? It's in Banko's nature to use humor when it comes to answering direct questions, and 'the scene' isn't used to seeing his serious nature, but through the journey of his music you can hear it. This mix is serious. There are several tracks in his selection that are on repeat and current favorites of mine: Claudia Lovisa 'Nightrider' [Original Mix] and Pig & Dan's 'Savage' – the energy lift into 'Savage' is incredible. RC's selection is of a world class standard, and with clever programming he succeeds in elevating the enjoyment of tracks that I never enjoyed all that much prior to hearing this mix. In 8 years of experiencing Darkbeat, I can safely report that RC's mix is very representative of the Darkbeat sound: a dark, mysterious beginning that flows into a high energy, dancefloor-rocking mid-flow; harmonizing into a melodic, euphoric close.
He (Banko) is in a situation of sincerity. I feel Banko's innate passion for music, people, people, music, music, people and music is heard right here. He eats, breaths, drinks, shits and dreams Darkbeat and what it can offer to the scene. That is an aspirational character trait that everyone should achieve – total belief in something. From my perspective (even in the multiple-looped emotional roller-coaster of a ride that is Electronic Music) this is a great thing to witness. I owe a lot of thanks and recognition to Banko/Rollin Connection for teaching me some of the things he has learnt over the years: the art of not giving a direct answer, for example. Haha! On a serious note: he's stepped up and he has taken the Darkbeat brand to a new level, and I sincerely hope this takes him many levels further, bringing many new opportunities for Darkbeat, himself and his most visible character: Rollin Connection.
Thank you to Darkbeat for the chance to reminisce those joyful times I had with the Darkbeat crew – and the extended circles that will never be forgotten. This 3CD package offers several great things: memorabilia for the Darkbeat faithful, an opportunity for the new consumer to understand what goes into putting every last ounce of energy, life and soul into something you love for others to enjoy, and of course, fucking great music. Is this a good foundation for further releases in my opinion? Yes. A thoroughly enjoyable audio and reminiscing experience for myself. I hope you enjoy it too.