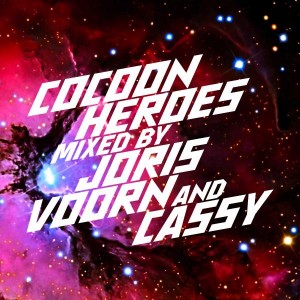 Not without good reason is the motto of this year's Cocoon Ibiza season "Into the Magic", as the sun-drenched Balearic island is steeped in a special enchantment. So, with great enthusiasm, the team around Sven Väth apply themselves to the 13th season in Ibiza, and you don't have to be a prophet to predict some historic club nights at the Amnesia. Also the acoustic 'warm up' in the form of the Cocoon Ibiza Summer Mix CD, established in 2007, makes your eyes glow intensely with excitement this year, as Cocoon was able to get Cassy and Joris Voorn doing the mix, two absolute DJ highlights in this season.
It's no less than three times that Catherine Britton aka Cassy is present in this year's Ibiza line up (e.g. at the Season Opening and Closing). For more than ten years, the multi-national Berlin resident is an essential part of the global Tech House scene and can look back on many releases on Perlon, Ostgut Ton, Playhouse as well as her own label Cassy.
An open artistic approach is what the Rotterdam-born DJ and producer Joris Voorn shows on the release. Since the beginning of the 2000s, Voorn stands for an inspiring alliance between European club traditions and the aesthetics of Detroit Techno, and thus won the hearts of Technasia, Carl Craig, Laurent Garnier and Sven Väth.
2CDs of the finest techno and house from the likes of Guy Gerber, Oxia, Shed, Steve Lawler, Lawrence, Radio Slave and more…
Tracklisting:

CD – Joris Voorn
01. Olaf Stuut – I See
02. Matthew Burton – Soul Groove
w/ St. Thomas – Romochalumo
03. Egal 3 – A51
04. Lawrence – The Swan
05. Philip Arruda – Seeds Of Brooklyn (&ME Remix)
w/ Robosonic – The Sweetness
06. Matthew Dekay & Lee Burridge – Für Die Liebe
07. Gerry Read – Roomland (Youandewan Remix)
08. Microtrauma – Pollen Flug
09. Jason Justin – Tab Jack (Springwater Dub)
10. Steve Lawler – Caracas
w/ ONNO – Mumblin Groove
11. Hot since 82 – Let It Ride (Nicolas Masseyeff Remix)
w/ Hobo – Ipperwash Dusk
12. Stefny Winter – When The Rain Fell
13. Truncate – Truncate 17
14. Clio – Poem
15. Otra feat. Argenis Brito & Pier Bucci – Part7 / Amarillo y Verde
16. Guy Gerber – One Day In May
17. Someone Else – Barbay (Ronan Portela Remix – Joris Voorn Edit)
18. Soy Mustafa – Return of the Anunnaki (John Tejada Remix)
19. Rhauder – Acid Jam
20. Oxia – Harmonie
21. Luis Flores – New Flesh (Drumcell Remix)
22. Back Pack Poets – Objective T
23. Himan – Midnight Express (Samuel L. Session Remix)
24. ReUP – Back In A Day (Marco Faraone Darkness Remix)
25. Intruder A Murk Production – Jei Amame feat. Jei (Radio Slave Dub)
26. Astrofarm – Strings (Ain't What They Used To Be)
CD2 – Cassy
1 Pearson Sound – Stifle
2 Dario Zenker – Works
3 Cavalier – Kaimanawa
4 Sigha – Fold
5 DJ Dan – Put That Record Back On (Peace Division Mix)
6 Rush? – Cortometraggio
7 Paul Woolford & Psycatron – Stolen (Dub Two)
8 Mr. G – New Dayz
9 Shed, Wax – Wax30303 B
10 Mr. G – Sunday Blues (Kasper Remix)
11 Tennis – Make It Good (Ryan Elliot Remix)
12 Adam Marshall – Thelon
13 Mr. G – Lex (Flip Flopping)
Release Date: 6 July 2012