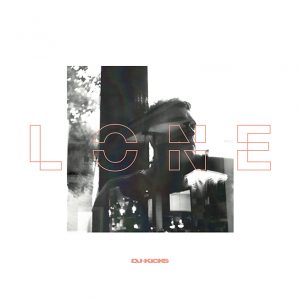 Ten years after his first release, UK artist Lone is putting out his first ever commercial mix CD. His entry into the celebrated DJ-kicks series and features four of his own new and exclusive tracks.
Born Matt Cutler and raised in Nottingham, Lone has emerged as a standout artist over the last decade. Starting out making hip hop, he has distinctly evolved with each new release. Yet whether making house, breakbeat or jungle, his music always remains identifiable thanks to its bright melodic colours. As well as running his own Magicwire label—home to early albums like Emerald Fantasy Tracks and recent music from Ross From Friends, who features here, and Project Pablo—he has also released on Werk Discs and Dekmantel. Over the course of three full lengths since 2012, though, he has also become an essential artist in the modern R&S family.
Lone's DJ-kicks very much feels alive, lived-in and authentic. It is a hugely personal view into his unique musical world and marks another landmark entry into !K7's long running series.
Tracklisting
CD
01. Casino Versus Japan – Go Hawaii
02. Heralds Of Change – Spotted
03. Lone – Brooklyn Banks **EXCLUSIVE
04. Camu Tao – Hold The Floor
05. Lootpack – Hityawitdat
06. Lone – Cali Drought
07. Lone – Alpha Wheel 4 (Ambient Mix) **EXCLUSIVE
08. Boards of Canada – Orange Romeda
09. Gnork – U
10. John Beltran (presents Nostalgic) – Placid Angles
11. Lone – Arc **EXCLUSIVE
12. E. Myers – Untitled (Main Mix)
13. Protect-U – Double Rainbow
14. Lone – Saturday Night (DJ-Kicks) **EXCLUSIVE
15. Ross From Friends – The Outsiders
16. Drexciya – Bubble Metropolis
17. Balil – Choke and Fly
18. Radiohead – Worrywort
2LP
A1 Casino Versus Japan – Go Hawaii
A2 Heralds of Change – Spotted
A3 Camu Tao – Hold the Floor
B1 Lone – Brooklyn Banks **EXCLUSIVE
B2 Boards of Canada – Orange Romeda
B3 Radiohead – Worrywort
C1 Gnork – U
C2 John Beltran – Placid Angels
D1 Lone – Saturday Night (DJ-Kicks) **EXCLUSIVE
D2 Balil – Choke and Fly