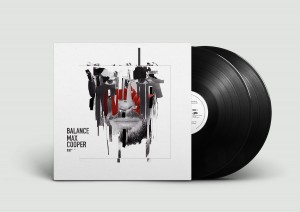 2LP + download code to the full mix of Balance 030 mixed by Max Cooper. This double vinyl package contains a handpicked selection of Cooper's favourite tracks from the Balance 030 compilation.
Balance has long been a series that elicits the greatest efforts and most original thinking from artists when it comes to the concept of what we know as a DJ mix. In a world where anyone can easily cobble together a mix via a myriad of tools, it takes increasing amounts of innovation to truly stand out. Max Cooper's blend of the artistic and scientific schools of thought have steadily built him up to become one of the standout electronic musicians of his generation. His mesmeric live shows blend dazzling, synchronized visuals that harness concepts borrowed from the natural world and from the mathematical structures of reality itself.
This left-of-centre approach makes for a truly timeless mix for the 30th edition of the Balance Series, which Tom Pandzic (founder and director of Balance) describes the sound and attitude of the release as the embodiment of what the series represents.
Cooper emerged from Nottingham's club scene in the 2000s, holding down a residency at the city's influential Firefly nights where he played turntablist sets across six decks with his fellow resident. From there he became an eminent producer of brooding, densely melodic techno via labels like Traum Schallplatten and Herzblut. Since then his creativity has exponentially blossomed, turning him into a more multifarious artist who borders experimental electronica, ambient and IDM within and alongside his dancefloor-driven output.
On this vinyl double pack you'll hear field recordings, brooding soundscapes, hypnotic piano modulations, deep atmospheric techno, heavenly melodies, glitchy electro-pop, hazy ambient passages, ravey breakbeats, glitchy drum & bass and even some Thom Yorke. Complex yet succinct, by turns expansive and intimate, it's the portrait of an ever-evolving artist with a wide gaze, and it's one hell of a listen.
Tracklisting:
A1. Bing and Ruth – The How of it Sped
A2. Nils Frahm – For (Max Cooper Remix)
B1. Max Cooper – Music of the Tides
B3. Rob Clouth – Shedding Layers
C1. Max Cooper – Resynthesis
C2. Com Truise / Kimyan Law – Ternary / Luba
C3. Max Cooper – Balance (Perc Tool)
D1. Rob Clouth – Transition (Ben Lukas Boysen Remix)
D2. Alix Perez – Blips
D3. Atoms For Peace / Vaetxh – Default / Unfolding Mechanism