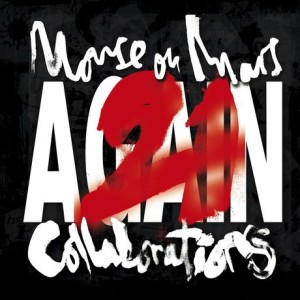 To celebrate 21 years as a band, Mouse on Mars have produced a double CD titled '21 Again' set for release on Modselektor's Berlin imprint, Monkeytown Records.
On '21 Again' Mouse on Mars collaborates with 23 unique bands and producers across two discs to pay homage to those that have been close to them all these years. Some of the notable collaborators featured on '21 Again' include Modeselektor, Mark E Smith, A Hawk and a Hacksaw and AGF Delay-Team amongst many others.
'21 Again' is out now through Monkeytown Records.
Tracklist:
CD 1
1. Eli & Mark E. Smith – 21 Again
2. Mouse On Mars & Cavern Of Anti-Matter – Fertilized
3. Mouse On Mars & Tortoise – Shoe Fly
4. A Hawk And A Hacksaw & Balazs Unger – Celebration Song
5. Mouse On Mars & Errorsmith – Errormom
6. Mouse On Mars & Eric D Clark – Lost And Found
7. Mouse On Mars & Modeselektor & Mr Maloke – Purple Fog
8. Mouse On Mars & Siriusmo – Immer Kurz Davor
9. Mouse On Mars & Scratch Pet Land – Splymogym
10. Mouse On Mars & Dodo NKishi – Queen Für Erschein
11. Mouse On Mars & Atom TM – Key My Brain
12. AGF / Delay Team – 21 Momstars
13. Mouse On Mars & Helado Negro – Carda Jadas
14. Mouse On Mars & Laetitia Sadier – My Toe Is On Fire
CD2
1. Ingrid & Oswald Wiener – Wir Möchten Auch Drauf Sein
2. Mouse On Mars & Schlammpeitziger – Ein Leben Wie Heu
3. Mouse On Mars & Junior Boys – Putty Tart
4. Mouse On Mars & Candie Hank – Metaloona Swamp
5. David Michael Digregorio/Sung Huang Kim – We're Glad You Are Born Today, Unless You Weren't Born Today
6. Mouse On Mars & Machinedrum – Juice Clr 9
7. Mouse On Mars & Mesak & Claws Costeau – Somiak
8. Mouse On Mars & F.X. Randomiz – Fromm