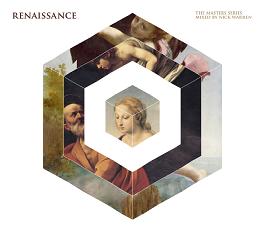 The first Renaissance 'Masters Series' of 2013 comes courtesy of DJ, producer and label owner Nick Warren. This is not only his first compilation for the clubbing institution since 2001 but his first full solo outing over two CDs.
"The mix was a joy to do. It had been a while since I had done a downtempo mix for a compilation and with the success of my Soundgarden Radio show I thought the time was right for one again. CD1 is a mix of new and old, the ambient mixes are always a bit tougher to find all new material for, and tunes like the Bubble Club track were missed by a lot of people when it was released last year. CD2 sums up where I am as a DJ right now: a mixture of deep melodic house and techno plus a euphoric ending. All the producers really did a great job for me and the thanks as always goes to them" – Nick Warren, Nov 2012
Like all great mixes, it is ultimately far more rewarding to sit down and absorb the sounds than read about them. The nigh on 160 minutes of genuinely engrossing, eclectic music tells the sound of Nick Warren. There's no quick start guide for this: it involves commitment.
Nick has achieved much in dance music: playing across the planet as Massive Attack's tour DJ, era defining compilations for Renaissance, Global Underground and Back To Mine, timeless music and live shows as Way Out West and residencies at all of the key clubs; Ministry of Sound, Cream and of course Renaissance. In Nick's present he continues to play out across every continent, whilst also maintaining Hope Recording's high quality output. Driven by a continual desire for change, his sound is no better represented than by his bi-monthly radio show Soundgarden on Friskyradio, which attracts over 150,000 listeners to each broadcast.
2012 saw Renaissance celebrate their twentieth year of activity. They returned to Ibiza for a sterling season at Pacha, a series of special 20th Anniversary events in the UK, headed by Sasha and, towards the end of the year, John Digweed, and instigated a new series of high quality mix compilations; Tale of Us, Francois K and Slam are all lined up for releases in the first half of 2013.
Tracklisting
CD1
01. Aurtas – Introduction
02. DFRNT – Nocturne Part 1 (feat. Annabelle Guilhem)
03. Tripswitch – Still Seas
04. Perdro Aguiar – The Voices In My Head
05. I Awake – Labyrinth
06. SCSI-9 – Ellsworth Land
07. DFRNT – El Spirito (Beatless Version)
08. Circular – City Pulse
09. Cell – Take off
10. Terje Saether – Oia
11. Nick Warren – Buenos Aires (Luis Bondio Dub Remix)
12. Tripswitch – Sick Teckers
13. Nick Warren – Devil's Elbow
14. Excession – Ambilight
15. Audioglider – Summer Rainstorm
16. Levente – Naja Haje (Ambient Mix)
17. Bubble Club – The Goddess
18. James Monro – Ambientworkx7
19. Yppah – Blue Schwinn
CD2
01. Levente – Tunneling
02. Cristian R – Deimos
03. Darren Flecta – In Moments
04. Darin Epsilon – Shine The Light
05. Levente – Csillagok
06. SimpliCity – Singing Or Speaking
07. Doomwork – All About
08. Sam Waller – I Pointi Pointi
09. Cesar Lombardi & Luis Bondio – Toro
10. David Calo – Moving myself
11. Tom Glass – Welcome To The Sun
12. Nicholas Ruiz & Marko Zalezar – Choir
13. Miraculum – Constellation 14. Verche – Corals
Release Date: 25th January 2013