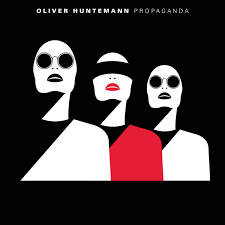 Now with over 20 years of releases behind him, Oliver Huntemann finds himself on the cusp of yet a new era in his career. 'Propaganda' is the fifth proper artist album from the Hamburg-based DJ/producer, and like each of its predecessors, it shows a different side to one of the most consistently rewarding names in techno.
Released on his own Senso Sounds label, the album exudes the level of assurance that perhaps only comes with being so active in curating and developing a label that has stood out from the masses since its inception in 2014.
'Propaganda' opens with 'Taktik', and the mood is quickly established through crisp motorik drum programming and deep, pulsing bass lines. 'Poltergeist' – the 2nd cut, continues this aesthetic – a deep and spacious groover. Clocking in at over 1 hour 15 minutes, the album allows a lot of space for itself, each tracking having the time it needs to develop and unfold. 'Egoist' ramps up the feel somewhat with intricate melodies and effects, before breaking down into something that will destroy many dance floors.
Yet the beauty of the album format is that it allows for various mood changes, and 'Malaria' brings us something of a shift into a more freaked out and edgy vibe, while 'Anonym' highlights Huntemann's mastery of atmosphere, serving as an ambient / downbeat interlude.
'Rotlicht' is perhaps a standout for fans of Huntemann's epic DJ sets, exhibiting all the control and release dynamic that make him such an engaging performer. It's also clearly a key cornerstone for the entire album
Next up is 'Absurd', followed by 'Manipulation' – both reference the exquisite sound design Huntemann instils into his precision- built tracks, while remaining primed for club use at all times. 'Momentum' switches up the tempo, perhaps influenced by more experimental, no wave and krautrock sources – and serving as punctuation before the album's final triptych.
'Vertigo' sees shimmering arpeggiated synths skip across a solid rhythm track, while 'Doppelgänger' builds a delicious tension through constant pads and pulsing, blocky bass tones. 'Trick17' ultimately rounds off 'Propoganda', – an expanse of emotionally charged techno with Huntemann's signature feel woven into its fabric.
CD/3LP Tracklisting
1/A1. Taktik
2/A2. Poltergeist
3/B1. Egoist
4/B2. Malaria
5/C1. Rotlicht
6/C2. Anonym
7/D1. Absurd
8/D2. Manipulation
9/E1. Vertigo
10/E2. Momentum
11/F1. Doppelgänger
12/F2. Trick 17