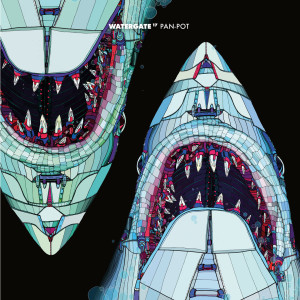 Globe trotting techno duo, Pan-Pot are set to mix the latest Watergate mix compilation, 'Watergate 17′.
The German producers, Tassilo Ippenberger and Thomas Benedix first met at Berlin's well known music school SAE, and went on to hone their techno craft after their debut album in 2007, 'Pan-O-Rama'. Since then they have consistently been regarded in the upper tiers of techno and along the way they have released countless remixes and original works including modern techno classics such as "Captain my Captain", "Charly" and "Confronted".
Not confined to the studio the pair tour consistently as well as doing shows in their home city of Berlin, so they have been more than just familiar with the famed Watergate club, and have actually been involved in the club since it's inception 12 years ago. Now curating the 17th edition of the Watergate mix series Pan-Pot have included new and exclusive tracks as well as some older favourites with tracks coming from Radio Slave, Josh Wink, Marco Resmann and Maceo Plex amongst others as well as a healthy smattering of their own productions.
'Watergate 17' is set for release October 6th through Watergate Records.
Tracklist:
01. Pavel Petrov – Adapt
02. Radio Slave – Don't Stop No Sleep
03. Marco Resmann – Hello Again (Exclusive Track)
04. Clint Stewart – Drenched (Exclusive Track)
05. Shall Ocin – Lurking Wolves
06. Whyt Noize – Shift
07. Mark Broom – Nucleus
08. Darlyn Vlys – Floor 122 (Santé + Sidney Charles Warehouse Dub)
09. Pan-Pot – Substance
10. Alberto Pascual – Doer
11. Dario Zenker – 27 Northwest
12. Maceo Plex – Conjure Bass
13. Stephan Hinz – Hungry (Exclusive Track)
14. Skober – Bring It To Me
15. Pan-Pot – Grey Matter
16. Josh Wink – Are You There (Ben Klock Remix)
17. Martin Eyerer – Reckless (Exclusive Track)
18. Pan-Pot & Slam – Conductor (Exclusive Track)
19. Pan-Pot & Vincenzo – Fiction Inc (Exclusive Track)